Exclusive
Decision Made: Paris Jackson Won't Return To School Where She Says She Was Bullied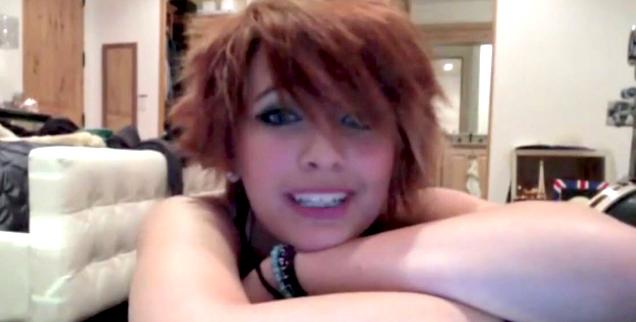 As Paris Jackson recovers from her suicide attempt, a decision has been made that she won't be returning to the elite private school where she claims she had been bullied, RadarOnline.com is exclusively reporting.
The teenager remains hospitalized in Southern California, under a involuntary psychiatric hold.
It "has already been decided she wont be going back to the school she had been attending," a family source told RadarOnline.com exclusively. "Paris had been absolutely miserable at the school for a long time, and there is a clique of mean girls that had been bullying her.
Article continues below advertisement
"It escalated after (new) child molestation claims were made public against her father, Michael. She has felt like an outsider for a long time. There is no way she could return there after the suicide attempt, Paris would be tormented all over again.
"Paris might be home schooled, and there is talk of her attending a performing arts high school which could be a perfect fit for her. Paris is artistically gifted, and going to a school with others like her could be the perfect solution."
During a television interview last year, Paris revealed that she had been bullied at the school.
Media reports circulated that Paris had not been bullied at the school and she lied on national television about it because she loves the drama. But multiple sources tell Radar, "that is absolutely untrue. Paris didn't lie when she said that in the media interview. For anyone to say otherwise, it trivializes how serious it was. Paris isn't a liar, it's just not who she is."
Article continues below advertisement
As Radar previously reported, Debbie Rowe would be willing to take custody of her daughter Paris if the teenager expresses the desire to live with her.
Paris, 15, is old enough to tell a judge who she wants to live with, and "Debbie would absolutely love for Paris to come live with her. Debbie loves her daughter, and would be delighted to have Paris living on her ranch," a source previously told us. "Paris could be home schooled and spend time with Debbie's animals on her ranch. Debbie lives outside of Los Angeles, and it's very quiet and peaceful for Paris."
Rowe along with Paris' aunt LaToya Jackson visited her daughter Wednesday night in the Los Angeles area hospital where she was taken after slashing her wrist in a bid to take her own life.
Older brother, Prince Michael, who also attends the same school, plans on returning this fall. Blanket, Michael's Jackson's youngest child, is home schooled.
If you, or anyone you know, is struggling with thoughts of suicide, please immediately seek help — you can speak with a skilled, trained counselor at a national Suicide Prevention Lifeline crisis center in your area, anytime 24/7 — call 1-800-273-TALK (8255).