Nigella Lawson Resurfaces After Attack By Husband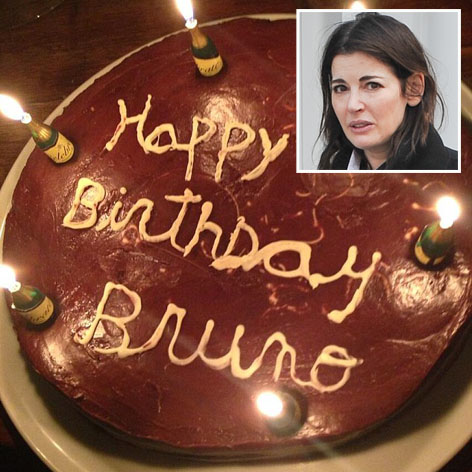 Nigella Lawson is slowly working her way back into the public eye.
The celebrity chef and The Taste judge has tweeted a photo of birthday cake she made for her son, Bruno.
"Happy Birthday Bruno" was written on top of the simple chocolate cake she baked for the 17 year-old, her son by her late first husband.
Ironically, the cake made have been baked with kitchen equipment Lawson was seen moving out of her $21 million home earlier in the week.
Article continues below advertisement
As RadarOnline.com has been reporting, a shocking series of photographs published two weeks ago showed Lawson's husband, 70-year-old Charles Saatchi, reaching across a restaurant table and putting his hands around her throat.
A clearly distraught Lawson left the posh eatery in tears and a fellow diner were quoted as saying "it was utterly shocking to watch."
Although the celebrity chef did not file a police report, an investigation was opened and Saatchi voluntarily went in to the London authorities a few days later. He was issued a "caution" which means he won't be prosecuted now but it could be used against him should another incident occur in the future.
Lawson's rep has confirmed that she's moved out of the home she shared with Saatchi but has not yet revealed if she plans to file for divorce.