Movers Take Nigella Lawson's Belongings From The Home She Once Shared With Violent Husband Charles Saatchi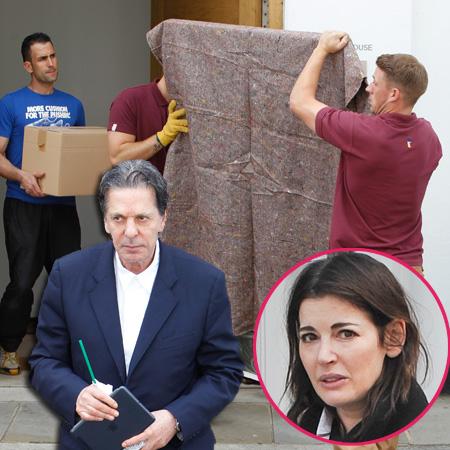 Hopes of reconciliation between glamorous television chef Nigella Lawson and husband Charles Saatchi seem futile -- the embattled pair has begun to remove their personal belongings from the Chelsea, south-west London, home they once shared.
For the second successive day, movers were photographed outside the estranged couple's $21 million marital home, taking away boxes, paintings and others items.
The day before, Lawson's sister Horatia supervised as the 53-year-old queen of cuisine's personal effects were removed, incuding boxes labelled 'cookbooks' and 'kitchen'.
Article continues below advertisement
The latest drama comes less than three weeks after Saatchi, the 70-year-old art and advertising tycoon, was photographed grabbing Lawson by the throat and tweaking her nose outside a restaurant.
Though he was issued a police caution for the incident, Saatchi has reportedly said that he was just "wiping her nose."
"Even domestic goddesses sometimes have a bit of snot in their nose. I was trying to fish it out," he said about the incident, according to the Daily Mirror.
Lawson is said to be considering escaping to the United States in a desperate attempt to get some privacy in the wake of the scandal.