Liberace Knowingly Infected Three Young Men With AIDS, Former Lover Claims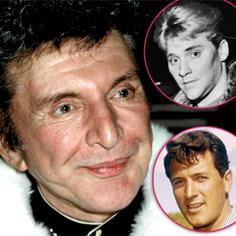 Liberace, the garish entertainer profiled in the recent HBO film Behind the Candelabra, was aware he had AIDS when he infected at least three of his young sex partners with the incurable disease, according to his former lover, Scott Thorson.
"Liberace was a sex addict: He never used a condom, nor practiced safe sex," Thorson tells this week's edition of The ENQUIRER. "His lovers Cary James, Chris Adler and all died because of him -- and there could be several others.
Article continues below advertisement
"Liberace asked Rock a lot of questions about having and living with AIDS," Thorson said. "Like, what sort of pain was he experiencing? What sort of medicine was he taking? How did he feel?"
Beginning when he was still a teen, Thorson (played by Matt Damon in the movie) dated Liberace for six years, from 1976 until 1982. Thorson, who's currently awaiting sentencing on a credit card burglary conviction, is currently in the advanced stages of anal cancer.
Liberace, was born Wladziu Valentino Liberace, died of pneumonia caused by AIDS at 67 on February 4, 1987 in Palm Springs, Calif.