Kim And Khloe Kardashian Hire A Private Eye To Investigate 'Slippery Snake' Stepmom -- And Then Slap Her With Lawsuit!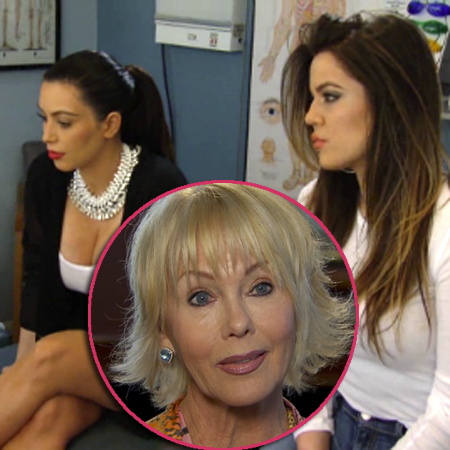 Kim and Khloe Kardashian were on the warpath on Sunday night's Keeping Up With The Kardashians -- hiring a private eye to investigate the stepmother Kim branded a "slippery snake" and getting her served with their lawsuit!
As RadarOnline.com has previously reported, Kim, Khloe, Kourtney, and Rob Kardashian are suing their stepmother, Robert Kardashian's widow, Ellen, alleging that she sold their property, including family photos and writings, to a magazine publishing company.
Article continues below advertisement
But on the family's E! TV show, fans finally saw how all the drama went down as the Kardashian family matriarch, Kris Jenner, broke down in tears because Ellen had allegedly said Kris was a terrible mother who hit her kids.
At the end of Sunday's show, the Kardashian girls said that they got the better of their dad's last wife, serving her with the lawsuit via a process server who posed as someone wanting to buy a home that realtor Ellen was selling.
"Guess what? The slippery snake has been served!" Kim smiled triumphantly to her family.
And Kris couldn't have been more grateful.
"It really warms my heart to think that my girls care so much that they want to stick up for me," she said on the show. "Finally we've been able to speak up and say this isn't right."
Before the episode's stepmom's been served climax, viewers witnessed Kim and Khloe visiting Kim's private investigator, Jake, who promised to help them dig up dirt on Ellen, who married famed O.J. Simpson attorney Robert Kardashian two months before his death in 2003.
Article continues below advertisement
Kim explained to Jake, "My dad's wife of a few weeks --she married him on his deathbed -- she gets paid by the tabloids to sell stories, one week it's my mom would beat me as a child and another weeks it's Khloe's not my biological sister."
The detective promised to look into Ellen's background, and later emailed Kim the news that "the widow was first married at 15 years old. The widow has had two bankruptcies and has been married five times!"
Kim declared to the camera, "I'm not really surprised when I hear this woman has filed bankruptcy a couple times. I mean, it's obvious motivation for her to want to sell stories. We're definitely going to do something to stop it and that's that."
Later, Kim and Khloe held a family meeting with Kris and their attorney, Todd, to decide what to do about Ellen's "lies" about the family.
"I just want to s**t on her face!" salty Khloe snapped to the group. Their lawyer said they had a strong case for defamation, libel, and privacy issues.
Article continues below advertisement
Kris revealed, "I took a picture of her and Robert and my four kids in front of my Christmas tree and she sold it to the tabloids and said, 'See, Kris wasn't even here at Christmastime.' It was in MY house!"
Kris also claimed of Ellen's treatment of her former husband, "She propped him up on the couch and married him in his pajamas."
The Kardashian mama then started to cry. Todd said he could prove reckless disregard for the truth and malice. "This is about as bad as I've ever seen it," the legal eagle concluded. "If we go, we go all the way hard and no turning back."
"She wouldn't let mom sit with us at the funeral and I threw a conniption fit," Khloe remembered. "Yeah, she tried to get my mom to sit in the last row," Kim sighed. Kris said, "It's really wrong what's she done." The Keeping Up With the Kardashians mother finally concluded, "Can we just press charges?" While pressing charges is for criminal cases, Kris' intent was clear and yes the family filed their mega-lawsuit.
Article continues below advertisement
In another storyline on the Sunday episode, little brother Rob, who needs to lose an estimated 50 pounds, was shown battling his weight problem.
"I've never felt so down in my life," Rob told Kim, adding that he was an embarrassment to the family. Kim spent the episode helping her chunky little brother try to trim down after Rob got on a scale and they discovered he weighed a whopping 241 pounds and had a 45-inch waist measurement! But when Kim set up a workout session for Rob with celebrity personal trainer Gunnar Peterson, her brother never showed up and Kim later confronted him at a barbecue restaurant where he was chowing down with friends. Even when Kim tried reverse psychology on Rob, feeding him burgers, fries, and pizza, he kept at his unhealthy ways.
Frustrated Kim threw in the towel, telling Rob, "'when you want the help, you can help yourself." At the end of the episode, Rob vowed to work out with Khloe's husband, Lamar Odom.
Meanwhile, Kris' husband, Bruce Jenner, spent the episode trying to mend fences with Brody Jenner, one of his sons from his previous marriage to Linda Thompson. While Brandon, his other son by Linda, had developed a close relationship with his dad, Brody was still resentful of the former decathlete. During a family day with the two boys, and his daughters Kendall and Kylie by Kris, Brody was jealous watching the girls getting attention from Bruce.
Article continues below advertisement
"Bruce was never around for me," Brody fumed. "I think Bruce was a great father--just not with me."
Brody didn't hide his hard feelings during the beach outing and brought up to Bruce that he was never there for him but Bruce didn't want to talk about it. Later, Brody found out from Kim that Bruce had begged Kris to have their second child (and her 6th!) and Kris had said "I'm so done" with having children but agreed to have one more when he promised to be a super-dad.
But in the final step toward reconciliation, Brandon encouraged Bruce to connect with Brody and so did Rob, who reminded Bruce he'd be thrilled to be able to spend time with his own dad, the late attorney Robert Kardashian, who was glimpsed in home movies with his namesake son.
"I would tell my kids every day that I love them," Rob told his stepdad. After all the family advice, Bruce and Brody finally had a heart-to-heart at Brandon's house. Brody said he didn't even get a phone call on his birthdays from Bruce growing up. "That really hurt."
Article continues below advertisement
Bruce took the blame for that, but explained when he went through the divorce, it became difficult to have a relationship with the kids; Brody countered that his mom Linda always encouraged him to see his dad.
"It was tough not being there," Bruce claimed. The former athlete said he had learned from his experiences and had tried to make up for missing his other kids' lives by being there for Kendall and Kylie.
"I'm not mad anymore," Brody concluded. "What's done is done. I understand where you're coming from."
Brody vowed they'd have a better relationship and the father and son exchanged a hug and told one another, "I love you."