Robert Kardashian's Deathbed Plea To Wife: Save Yourself From My Children's Drama!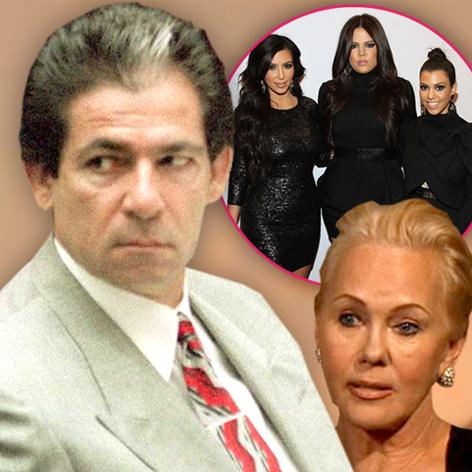 An ailing Robert Kardashian made a deathbed warning to his wife Ellen -- "run as far away from the drama as you possibly can!"
The widow of the famed attorney -- who became nationally known as a member of O.J. Simpson's criminal defense dream team -- was referring to the shame he felt about the lives his three daughters had started to line, according to Ellen, who is now being sued by Kim, Kourtney, Khloe, Rob's and their mother, Kris Jenner over some of her late husband's belongings.
Article continues below advertisement
"His last wish to me was that I have freedom and I would get as far away as I possibly could from the drama and everything that we had experienced during our time together," Ellen said in a 2012 interview, a transcript of which RadarOnline.com has obtained.
"When he told me that I should go far away, on some level I thought it was a warning."
Nine years after Robert's death of esophageal cancer, however, Ellen willingly put herself back in the middle of the Kardashian's "drama."
She broke her silence to Star, revealing how Robert thought Khloe might not have been his biological child and how Bruce Jenner was a cross dresser!
It came after years of silence between her late husband's children and Ellen.
"I tried to stay in contact with the children after Robert passed away," she revealed.
"I made several attempts and several phone calls. I never got a return phone call. I did speak to Rob for a couple of years, but then without phone numbers to get a hold of them, we just lost touch.
Article continues below advertisement
"I tried to get a hold of them through family members, but they said it was just as well that I didn't, or I didn't attend my mother-in-law's funeral because of them."
According to Ellen, Robert hoped his third-wife could save herself from "the drama within the girls and their mother."
"It was constant," she said. "It was phone calls to the house, upsetting a dinner, being out with somebody and having one of the girls call. They were fighting with her (Kris). Just continual.
"The drama and their lifestyle was excessive and not like anything that I had ever seen or been through. It was constant and it was a lot of fighting, a lot of arguing between them and their mother.
"Robert wanted me to be free of chaos and all the family issues and things that had taken place that I had experienced."
She said Robert, who died at age 59, "was very disappointed in a lot of different things that had taken place with the girls."
Article continues below advertisement
"They had their disagreements and they argued about a lot of things," Ellen recounted.
"Robert was very family oriented and loved, you know, his culture and he loved being Armenian and that's something the girls would not participate in. He found that very disturbing and he was sad."
"He also felt that as a father, he shouldn't give them more than they needed.
"They wanted new cars, they'd come to him for new handbags or expensive shoes. Robert being Armenian, well, he worked for everything he ever had and that's the way he lived his life.
"He wanted his family to do that. He wanted his girls and his son to be raised with the same ethical background and to be hard working and make money the right way."
The Kardashians have accused Ellen of profiteering from photo albums and a journal the siblings claim is copyrighted to them.