Exclusive
Kim, Kourtney, Khloe & Rob Kardashian Were Not At Father's Deathbed When He Died, Reveals Widow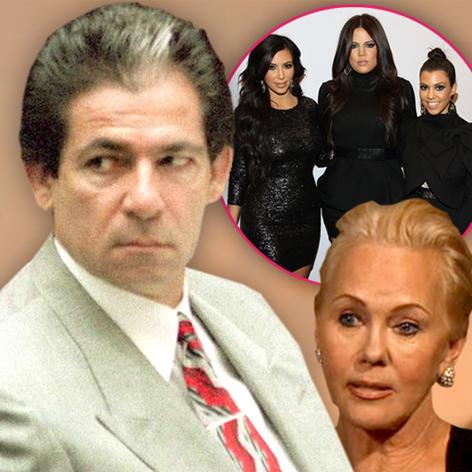 As Robert Kardashian battled his final moments with esophageal cancer, his children were not by his side and didn't get a chance to say goodbye, according to his widow Ellen.
"When he passed away his children were not there. My daughter was there and three friends of ours," Ellen said in a 2012 interview, a transcript of which has been obtained by RadarOnline.com.
"They were there early in the morning. I don't know why they didn't come back. They knew that it would be soon, and they knew it would be that evening."
Article continues below advertisement
Shortly after their honeymoon, Ellen says Robert was diagnosed with the terminal disease and since the girls — Kim, Khloe and Kourtney -- were living with mom Kris Jenner at the time, they called a family meeting to break the news.
"We called a family meeting. Of course, wanted to include them in on everything. Let them know exactly where he stood as far as stage 4 and terminal. It was very sad for all of us," Ellen added.
"His children were around. Of course it was an open door policy at our home. They could come any time they wanted. They could spend the night. They could spend as much time as they wanted with their father."
According to the widow of the famed attorney, who was a member of OJ Simpson's infamous 'dream team,' Robert's daughters only stopped in when they wanted to.
She said Robert would have been heartbroken to know they weren't by his side during his final moments of life.
Article continues below advertisement
"I think it was very difficult for them as it was for everyone. They came at different times. From time to time they would come together. Robert Jr. lived with us, so he was there on a daily basis. The girls would stop in when they wanted to," Ellen said.
"I really think that it was very important for him to have his family. He was very family oriented. That was his life, with his children. So yes, I know that he was very sad about that… Robert would have been very sad had he known that his children were not there by his bedside."
Robert died on September 30, 2003, and by 2007 a sex tape that Kim made with Ray J (the same year her dad died) was leaked and the Kardashian family shot into superstardom.
"I found that to be very, very sad," Ellen said of Robert's children not being there when he passed.