Katy Perry Was 'Madly In Love' With John Mayer, Admits He Has 'Beautiful Mind, Tortured Soul'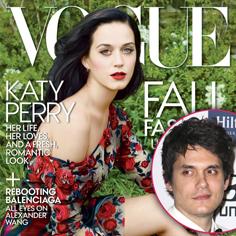 The relationship is over, but that won't stop Katy Perry from gushing about ex-lover John Mayer.
The I Kissed A Girl divorcee -- covering the July 2013 issue of Vogue -- has admitted she was madly in love with the notorious Hollywood lothario, even though she said their relationship was doomed.
The tait-a-tait began when the interviewer questioned the status of the pair's relationship, with Katy abruptly answering: "Over."
Article continues below advertisement
But she was sure to clarify that it wasn't a "revenge" romance after her painful separation from ex-husband Russell Brand.
"No, not at all. No, I was madly in love with him," she said about Mayer, 35. "I still am madly in love with him."
Though she didn't delve into the details of what went wrong and caused the split, the singer did hint that the soulful singer has a dark side.
"All I can say about that relationship is that he's got a beautiful mind," she said. "Beautiful mind, tortured soul. I do have to figure out why I am attracted to these broken birds."
In the extensive interview, Perry revealed that her former husband Brand told her he was divorcing her via text message. She also detailed that there is more to the story of the dissolution of their relationship than has been revealed.
She said: "I felt a lot of responsibility for it ending, but then I found out the real truth, which I can't necessarily disclose because I keep it locked in my safe for a rainy day. I let go and I was like: 'This isn't because of me; this is beyond me. 'So I have moved on from that."
To read Katy Perry's full interview with Vogue, click here.