Convicted Murderer Jodi Arias Sits In Jail On 5th Anniversary Of Travis Alexander's Death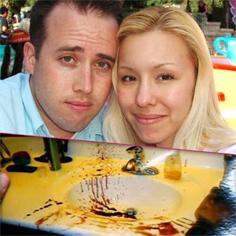 Jodi Arias was convicted of first degree murder for the June 4, 2008 brutal slaying of Travis Alexander and on the fifth anniversary of his death RadarOnline.com looks back at how she has spent the last years behind bars.
Travis was found by his roommates on June 9, 2008 with his throat slashed from ear to ear, with 29 stab wounds and a gunshot in the face. They told police even on the 9-1-1 call that they believed Jodi was involved in the murder, but she denied her involvement in the horrific situation.
Article continues below advertisement
She was finally arrested on July 15, 2008 in California and was extradited to Arizona on September 5, 2008 and pleaded not guilty on September 11, 2008.
Jodi lied to the investigators about what originally happened in Travis' house, first saying she wasn't there, then saying two people broke in dressed up like ninjas and killed Travis but she escaped and then finally she admitted that she was there and killed him.
Jodi has been imprisoned in the Estrella Jail in Maricopa County Arizona since September 2008. She gave multiple interviews from behind bars that were ultimately used against her in her trial, including the one where she told Inside Edition "No jury is going to convict me…because I am innocent and you can mark my words on that. No jury is going to convict me."
Since her arrest Jodi has had a lengthy rap sheet, including getting into a fight with a cell mate, stealing and hiding pens and possessing 19 unauthorized pictures.
Article continues below advertisement
Jodi's legal battles began as soon as she was arrested, when she fired her first court appointed lawyer and then tried to represent herself in the case. She ultimately stuck with attorneys Kirk Nurmi and Jennifer Willmott as her defense team.
After multiple legal maneuvers and delay tactics, Jodi's trial began with jury selection on December 10, 2012 when a panel of 18 men and women were chosen to decide her fate.
Testimony began in January 2013 when Prosecutor Juan Martinez presented evidence of Travis' horrific death, detailing how Jodi stabbed him 29 times in the back, chest and head, shot him in the face and slit his throat from ear to ear.
Graphic sexually explicit photos of Jodi and Travis taken the day he died were presented as evidence, as was a recording Jodi made of phone sex between the two.
Jodi was on the stand for a lengthy 18 days where she repeated her version of going into a "fog" after she shot Travis first and saying that she remembers nothing else of the murder after that, including destroying evidence and attempting to cover up the crime.
Article continues below advertisement
She was defiant during the barrage of questions from the prosecutor and the jury, who are allowed to ask witnesses questions, but sobbed on the stand during the prosecutor's questions when he asked her if she was crying while she was stabbing or shooting Travis.
On May 8, 2008 after 15 hours of deliberation the jury found Jodi guilty of first-degree murder.
The "aggravation phase" began on May 15, 2013 and after three hours they found that the murder was "extremely cruel" so she was eligible for the death penalty.
The penalty phase began on May 16, 2013 and Jodi presented the jury with a slide show from her life and asked them to spare her from the death penalty and give her life in prison on May 21, 2013.
The jury was deadlocked, with the panel split 8-4 in favor of the death penalty and a mistrial was declared on May 23, 2013.
Following her May 21 allocution Jodi did a round of media interviews post-conviction, where she said that she would prefer death over life in prison.
Article continues below advertisement
"I've completely effed up my life and I think I would be doing everyone a favor," she said about getting death, but subsequently changed her tune.
Donavan Bering, a friend of Jodi's and a former inmate from the Estrella jail is running Jodi's Twitter account for her, and the last message she sent on her behalf read: "I will be sorry for the rest of my life – probably longer," – Me, me allocution, May 21, 2013.
A status update hearing is scheduled for June 20, 2013 and the prosecutor has not announced if they will impanel a new jury to seek the death penalty.