Employee Of Eva Longoria's Restaurant Brutally Beaten In What Family Calls A Hate Crime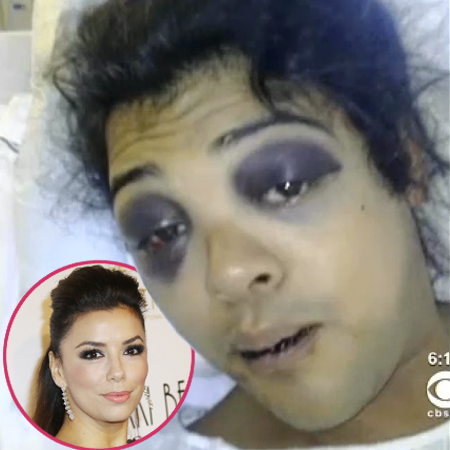 Victor Diego, a 22-year-old employee of Eva Longoria's Hollywood restaurant Beso, remains hospitalized at Cedars-Sinai in Los Angeles with two fractured ribs, a shattered cheekbone, a broken jaw, and damage to his temple, after a pack of men brutally beat him in an incident his family says police are investigating as a hate crime.
Diego's sister Virginia told CBSLA that Victor, who is gay and transgendered, had just left work Thursday evening and was dressed up prior to the ambush on Hollywood Blvd.
Article continues below advertisement
"Sometimes men try to talk to him and they get humiliated in front of their friends when they realize it's a man," she said. "Because he looks really good, he looks like a woman, you couldn't tell the difference."
The men jumped Victor from behind, his sister said, adding that the Los Angeles Police Department's Hollywood Division is moving on with the case as a hate crime.
"He was basically left for dead just because of who he is," Virginia said. "We don't want this to happen to anybody else. We just want somebody to come forward and let us know what they saw. He deserves justice."