Eating Cotton Balls Dipped In OJ, Drugs & Body Bashing! Eddie Murphy's Maxim Model Daughter Bria Reveals Horrors Of Modeling Industry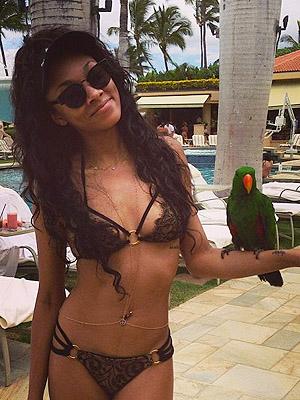 Eddie Murphy's smokin' hot daughter may be a model, but she isn't too thrilled with what she sees in the competitive and toxic industry.
Bria, the 23-year-old spawn of the comedic actor and Nicole Murphy, opened up to Good Morning America in a segment that aired on Tuesday, revealing some of the horrific things she has seen and heard about during her years as a professional model – and RadarOnline.com has the video.
Article continues below advertisement
"Lots of girls get addicted to drugs and anorexia, it's — there's a whole list of things, because it's a lot of pressure to be perfect," the Dark and Lovely hair care model revealed on the show.
She admitted that she feels the pressure to be thin as well.
"Oh yeah, absolutely … I'm a small girl naturally, but I can gain weight," she said. "And I'm going through little hormonal changes and my body's changing and I'm like, 'Oh my God, I'm gaining weight this week, I'm losing weight next week.'"
The celebrity daughter reveals one of the startling stay-thin secrets of her peers.
"I've heard of people eating the cotton balls with the orange juice … they dip it in the orange juice and then they eat the cotton balls to help them feel full, because the cotton's not doing anything," she explains. "It's just dissolving. And it makes you think you're full, but you're not."
Murphy, who dreams of strutting her stuff for Victoria's Secret, also admits that she faces a lot of criticism when it comes to her looks and her body.
Article continues below advertisement
"It's your job to go into a room … and some people will just say no without an explanation, and some will be like, 'Oh, your nose is too big. Your butt's too big. Oh, your legs are flabby.' Like, they'll just go on you, 'Oh, you need to tighten that up,'" she revealed.
But none of this is stopping her from pursuing her dreams.
"As I got older, I was like, 'Bria, you can't want to model and not want to be out there in — be the center of attention," she explained. " So you've got to get over your little fears of putting yourself out there.'"
radar_embed service=youtube src="https://www.youtube.com/embed/kukNMmTmzgE" width="560" height="315"