The Ex Factor? Demi Lovato Spotted Furniture Shopping With Wilmer Valderrama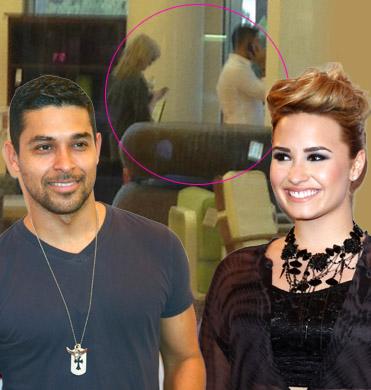 Demi Lovato is no stranger to the ex factor — as in, ex-boyfriend.
The X Factor judge was spotted furniture shopping with former flame Wilmer Valderrama on Friday, June 7, and fans are worried the hard-partying actor could be a bad influence on Demi.
Demi, 20, was linked to Wilmer at the time of her drug use, breakdown and subsequent rehab stay in 2010. Upon her release, she stayed single to focus on her sobriety, but was soon spotted back with the notorious playboy.
Article continues below advertisement
The duo were on and off for years, but in 2012, shortly after the two were spotted partying at Beacher's Madhouse, reports of a relapse once more raised their head.
Demi dismissed them, insisting she was still on track and revealing that she was actually living in a sober house in Los Angeles.
Demi moved out of that facility this spring, however, tweeting in April, "So happy to have my own apartment!"
And last Friday, Wilmer, 33, helped her pick out home decor items for her new pad at Urban Home in Sherman Oaks, California.
On Twitter, fans were worried that her notoriously volatile relationship with Wilmer could push her off the right path once more:
"demi is 19 and also wilmer is thirty-one........ uhm. what is a 31 year old doing having a 19 yr old?"
"so demi and wilmer are really dating huh :("
But Demi was unwilling to discuss her fans' concerns, tweeting, "I will be completely open with my fans about things they can benefit insight and wisdom from. My true fans understand that."
Do you think hard-partying Wilmer is a bad influence on sober Demi? Let us know in the comments below…