Christie Brinkley's Doppelganger Daughter Slams Too-Skinny ' Unwomanly, Cardboard' Models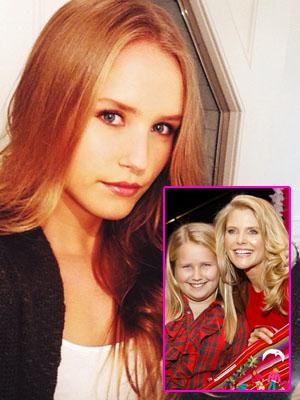 The daughter of supermodel Christie Brinkley, Sailor Brinkley Cook, recently shed a lot of weight, but that doesn't mean that the young model supports the super skinny look!
The gorgeous 15-year-old spawn of 59-year-old Brinkley and her ex-husband Peter Cook graces the pages of the August 2013 issue of Teen Vogue, where she slammed super skinny models as being "unwomanly" – and RadarOnline.com has all the details.
Article continues below advertisement
Sailor confessed she went through an "awkward stage until basically this year" and that she has "grown into myself and I'm confident now, but before I wasn't as all. She points to her mother as a positive role model.
"It was only recently that I wanted to get into modeling," the teenager explained.
"I said, 'Mom, should I diet?' and she was like, 'No! You don't need to be skinny, you just need to be happy with yourself and confident and fit.' All of her photos really show that. She was like a goddess."
Sailor, who stuns on the pages of the teen fashion magazine, finds the rail thin models she sees gracing the pages of most magazine disheartening.
"I feel like models today have turned into sticks, and it's so unwomanly," she rants. "I am for models who are healthy and have a personality. You shouldn't just be a piece of cardboard."
Christie Brinkley recently admitted to "feeling very fat" during her heyday as a supermodel.
"When I started out, models were the proverbial clothes hangers," she explained. "You were just to be quiet, put the clothes on and do as you were told."
To read more on Sailor Brinkley Cook, pick up the August 2013 issue of Teen Vogue.