Bethenny Frankel's Divorce War: Husband Tried To Stop Taping In House They Are Still Sharing As Things Get Ugly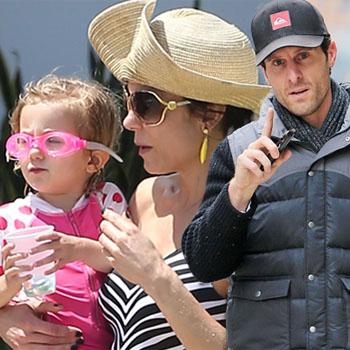 Bethenny Frankel and Jason Hoppy's bitter divorce is getting ugly and his latest move is to try and stop her from filming in their tony Manhattan apartment and now even that has become a battleground for them.
The reality star was filming scenes for her upcoming talk show Bethenny in the $5 million NYC condo recently when her husband tried to shut production down.
"Jason tried to stop the taping. He freaked out and snapped at everybody," an eyewitness told Us Weekly about the filming with about two dozen crew members.
Article continues below advertisement
The couple happily opened their home for their Bravo series Bethenny Ever After, but this time Jason wasn't cooperating with her filming.
"Bethenny had to move the shoot to her bedroom," the witness said.
As RadarOnline.com previously reported, Jason doesn't want their daughter Bryn Hoppy to have anything to do with Bethenny's new show.
But their unconventional living arrangement has put a massive strain on the already broken relationship, with neither side moving out of the 3,400-square-foot Tribeca pad.
"By staying, he shows he has equal responsibility for Bryn. It's all to help his case and get him as much custody of his daughter as possible,"
a source said about his reason for not moving out.
Bethenny has been adamant that she wants the house and full custody of their daughter, and a source said she wants the marriage to be over and he's dragging it out.
"He's trying to make her life miserable."