Alexis Bellino: 'I Just Wanted A Sincere Apology' From Heather Dubrow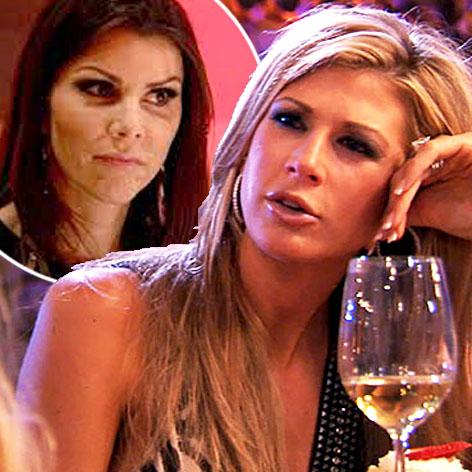 Heather Dubrow doesn't always like to hear what her The Real Housewives of Orange County co-star Alexis Bellino has to say, but during the June 17 episode, Heather decided to make peace with Alexis.
The only problem is that Heather again didn't really listen to what Alexis was saying.
"I was surprised and a little leery that Heather wanted to meet," Alexis writes in her June 18 Bravo blog. "Hearing her say that hopefully we can have an intelligent conversation was exactly what I was thinking — since the last time we were together she held her ears and sang 'la la la la la.'"
Article continues below advertisement
Alexis was trying to explain why she felt hurt by Heather.
"The main point I was trying to get across during coffee was that it wasn't the isolated incident in Costa Rica that hurt my feelings so badly," Alexis says. "It was the entire season of hearing Heather insult me or gossip about me to the other ladies or in her interviews."
She wanted Heather to say "sorry" for all of that.
"I honestly just wanted a sincere apology for my feelings being so hurt on several occasions," Alexis says.
But when that didn't happen, Alexis just had to let it go in order for them to move forward.
"Once I realized this wasn't happening, I knew the old adage 'let's agree to disagree' was the premise of our conversation," she explains. "I didn't know what to expect at coffee, but I wanted to move on and replace all the negative energy in my life with positivity."
Alexis continues, "I wanted to hear her side, and I wanted to be heard, but I wanted to be treated with respect during it. The conversation went around in circles for a while, and we definitely did not see eye-to-eye on several topics."
But in the end, the women were able to reach a mutual understanding.
"Regardless, I am very happy to say that we have both put the past behind us, and Heather and I are in a better place now," Alexis admits.