Alexis Bellino Confesses: 'I Nearly Dropped My Phone' When Tamra Barney Asked Me to Meet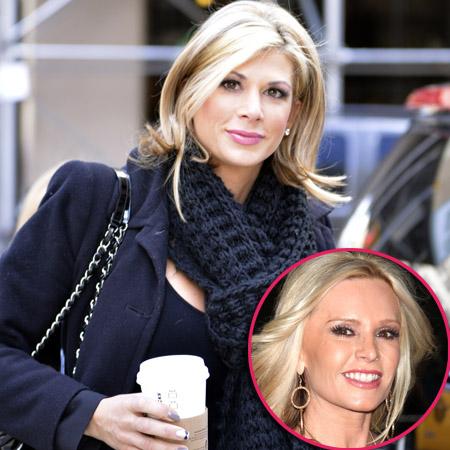 During Monday's episode of The Real Housewives of Orange County, Alexis Bellino received a shocking text from her arch-nemesis, Tamra Barney, asking her to meet up.
"When I received the text from Tamra asking me to meet with her, I nearly dropped my phone!" Alexis wrote in her Bravo Blog this week of the unlikely correspondence. "I instantly thought: heck no! Why would I meet with her again? Why will this time be any different?"
Article continues below advertisement
Alexis said she didn't expect for Tamra to want to put an end to their fight, which culminated in the "Dinner From Hell" incident on the show, in which Tamra let loose on Alexis, eventually asking her to leave in a not-so-nice terms, causing Alexis to cry out that she'd been bullied.
"I think it's a natural feeling to have when I had extended the olive branch twice in the past and was shot down both times," Alexis explains.
But after getting over the initial shock, Alexis was still nervous to come face-to-face with her enemy.
"Pulling up to the restaurant to meet Tamra, I felt my tummy do somersaults," she says. "I was so worried I may be humiliated once again, but it was too late. I was already there."
Alexis' nerves were quickly put to rest when Tamra made a surprising gesture.
"Hearing Tamra say she was a little nervous prior to meeting me was a relief," Alexis writes. "Then having her stand up to hug me… that was absolutely shocking and once again my chin hit the floor as a viewer watching it."
Article continues below advertisement
Of course, it was weird for the two enemies to finally face each other.
"It was so awkward at first," Alexis says. "I remember thinking, 'I have no idea what to say to her.' Neither of us knew what to say."
But, Tamra had a reason for setting up the meeting and the result totally changed their relationship.
"Once Tamra explained why she asked for this meeting, I crumbled," Alexis admits. "All the years of feeling such hatred from someone and to have that person actually apologize in her own way, and look upset about it, my heart was relieved."
Alexis adds, "Most likely we will never be BFFs, but I felt the dark hatred leaving and a fresh start beginning."
Follow us on Twitter @Radar_Online and let us know what you think on our Facebook page.