Too Soon? Reese Witherspoon & Hubby Jim Toth Toss A Few Back In NYC Less Than A Month After Arrests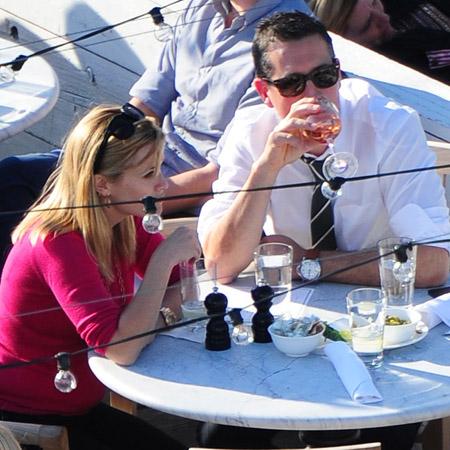 Reese Witherspoon and her husband, Hollywood agent Jim Toth, enjoyed a few drinks on the patio of New York's Soho House restaurant Tuesday, less than a month after he was arrested in connection with driving under the influence, and she was subsequently taken into custody for disorderly conduct in the incident.
The Legally Blonde star, 37, nursed a clear liquid cocktail, while Toth relaxed with a glass of rose wine, as they chatted with a female friend.
Article continues below advertisement
As we previously reported, Reese pulled out the celebrity card after the April 19 incident in Atlanta, getting out of the car and asking, "Do you know my name? You're about to find out who I am … you're about to be on national news."
In a subsequent damage control interview with Good Morning America, Reese called the couple's actions that night "just poor judgment.
"I think we made a mistake, and it's something that absolutely will never happen again," she said. "Just bad judgment … I had no idea what I was thinking that night. I saw him arrest my husband and I just panicked. I said all kinds of crazy things to the officer."
Reese subsequently pleaded no contest to the disorderly conduct charge, and paid a $213 fine. Toth pled guilty to driving under the influence, for which he must perform 40 hours of community service, attend an alcohol education program and remain on probation for 12 months.