Exclusive
Call The Doctor! Or, He'll Call You: Michael Jackson's Death Doctor Has Private Telephone In Jail Cell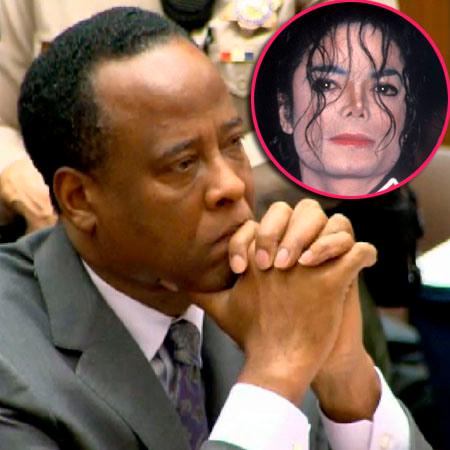 The man convicted of the involuntary manslaughter death of Michael Jackson, Dr. Conrad Murray, has been granted a personal cell phone to use while serving his four-year sentence behind bars, RadarOnline.com has exclusively learned.
"The phone can't receive any incoming phone calls, but Dr. Murray can place collect calls to anyone he wants," a source with knowledge of the situation confirmed.
The stunning and surprising insight into his life in jail explains how Dr. Murray was able to call CNN's Anderson Cooper for a live jailhouse interview on April 2 in which he serenaded the newsman with a rendition of Nat King Cole's The Little Boy That Santa Claus Forgot.
Article continues below advertisement
The unexpected cell phone privilege is also how Dr. Murray, who 12 jurors unanimously agreed in Nov. 2011 was solely responsible for causing Jackson's death by administering a deadly dose of the powerful sedative Propofol, was able to call into NBC's TODAY.
"Dr. Murray was given a phone because of the resources it would take to take him out of his cell to take him to the pay phone were just tapping the already very limited jail resources," said the source.
"He is on his phone 24/7, typically calling his baby mama, Nicole Alvarez, along with his attorney."
The disgraced cardiologist isn't housed in the general population of the Los Angeles County jail because he is considered a "high value target" by other inmates because of his role in Jackson's 2009 death.
So, one law enforcement source told RadarOnline.com, "It was just easier to give him a phone."
But jail officials didn't expect that Dr. Murray or his associates would somehow profit from the phone, as was believed to have occurred recently.
Article continues below advertisement
His girlfriend, Alvrez, recently sold a voicemail message from the doctor in which he complained to a tabloid website about not being able to sleep, in order to pay her rent.
During the message, Murray cried: "I can't sleep now, it's very hard, I'm in constant pain. Can someone please help me? I can't use my hands anymore. I have no more use of my arms."
Said the source: "Clearly complaining about having 'explosive diarrhea' has paid off for the doctor!"
"He is manipulating the system and is able to call media outlets all while he continues to accept zero responsibility for Jackson's death.
"It's absolutely insulting that someone convicted of the death of another human being is able to have a phone at his disposal to use whenever he wants."