Wade Robson Will Have To Explain Several Gushing Interviews About Michael Jackson To Prove Molestation Claims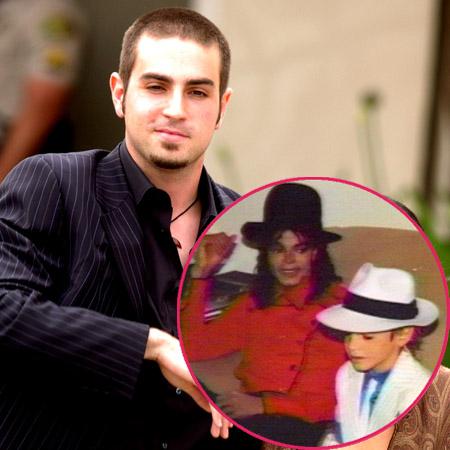 Famed Australian choreographer Wade Robson -- who recently filed a creditor's claim against Michael Jackson's Estate in which he accuses the King of Pop of sexually abusing him as a child -- is going to have to explain several gushing interviews he gave in the last several years in which he praised the Thriller singer and boasted about working for the Cirque du Soleil tribute to the entertainer, RadarOnline.com is exclusively reporting.
Article continues below advertisement
On July 30, 2011, Robson gave an interview in support of Pulse on Tour NYC, and said, "I'm starting on Cirque du Soleil, the Michael Jackson Show, so it's the equivalent of the Beetles Love Show, the Elvis Show, but for Michael, which is you know it's exciting and terrifying all at the same time because it's such a huge responsibility. But that is why I took it on, because he was such a huge part of my life for twenty years -- before he passed -- since I was seven. So it's an opportunity for me to give back a little to his legacy, such a big part of his legacy and make sure as much as I can that it's done right and represents his essence. So that is a really big undertaking."
As we previously reported, Robson was a star witness for Jackson at his infamous molestation trial in 2005, during which the Australian said he had NEVER been abused by the superstar singer.
Robson, now 30, first met Jackson when he was 5 and had several sleepovers at the Bad singer's Neverland Ranch — allegedly until he was 14.
In the court docs, obtained by RadarOnline.com, Robson's attorney stated in a sworn declaration that the claim should be sealed because of "childhood sexual abuse in the universal complaint for childhood sexual abuse as described in the unified complaint for childhood sexual abuse attached to the Creditor's claim."
Article continues below advertisement
Casting more doubt on Robson's new claims, in an interview with Master Class Legends -- uploaded to You Tube in July, 2012 -- the choreographer gushed about the time he spent with Jackson as a child.
youtube
In the interview, Robson recounts dancing on stage with Jackson at age seven, after winning a dance contest in which meeting & performing with the singer was the grand prize. He recalled being obsessed with Jackson's Thriller video at the young age of 2.
However, Robson recounted what fame and media scrutiny took a toll on Jackson.
"Particularly growing up with Michael, that is a whole other scale, that level of fame, and rightly so for all the amazing reasons, things and work did. But I saw how that tormented him as well. When I was really young, I idolized him, and wanted to be everything and anything he was on that sort of scale. Then as I was getting a little older, going through that experience (myself), kind of referring back to that sort of stuff I saw with Michael's life and realizing for me personally, I don't know if I want that particular version of life."
Article continues below advertisement
The timing of these interviews could be pivotal, if the judge allows the creditors claim to proceed, because the deadline has long since passed for those to be paid by the Estate.
Howard Weitzman, attorney for Michael Jackson's Estate, issued a statement after the claim was filed. "This is a young man who has testified at least twice under oath over the past 20 years and said in numerous interviews that Michael Jackson never did anything inappropriate to him or with him. Now, nearly four years after Michael has passed, this sad and less than credible claim has been made. We are confident that the court will see this for what it is."
Robson's attorney fired back and said, " "Michael Jackson was a monster, and in their hearts, every normal person knows it. Wade Robson, in addition to being one of the most talented people on the planet, is one of the kindest, most gentle, decent and introspective human beings one will ever meet. He is the loving father of a young son and happily married. Last year, on a career trajectory that was off the charts, he collapsed under the stress and sexual trauma of what had happened to him for seven years as a child. He lived with the brain washing by a sexual predator until the burden of it all crushed him. 'If anyone ever finds out about what we did we will go to jail for the rest of our lives, and our lives will be ruined forever,' Michael would say to him.
Article continues below advertisement
"This kind of intimidation of a child by a sexual predator is tragically characteristic and effective, keeping them quiet about the abuse ­ often for a lifetime. The irony here is that we were the ones who filed under seal and still tried to keep it secret. Amidst all the accusations of a financial motive, no amount of damages is even listed in our papers. There are significant legal issues involved in this case that have the potential to impact lives beyond just our client. But the Jackson money machine, in which everyone is indeed financially motivated, is at it once again to keep the truth from coming out. This time it won't work."
The first hearing in Robson¹s claim is scheduled for June 6.
As a choreographer, Robson has worked with some of music's biggest names, including Britney Spears, Usher, Pink and 'N Sync. He's also appeared on FOX's So You Think You Can Dance as both a judge and choreographer.