Trouble Already? Lindsey Vonn Spotted Without Tiger Woods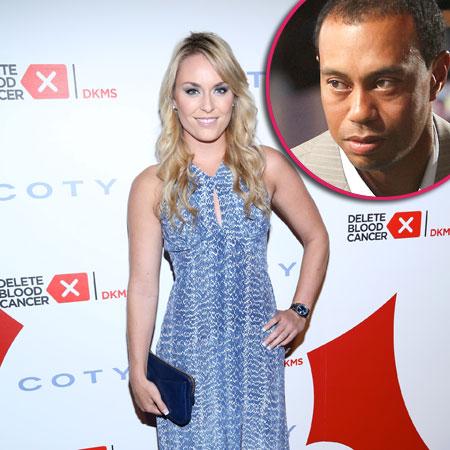 Tiger Woods and Lindsey Vonn seemed like an unlikely couple when they announced that they were dating but the champion skier was just spotted without her new boyfriend leading to speculation that there is already trouble in their hot new romance.
Possibly licking his wounds from his loss at the Masters, Tiger was nowhere to be found when Lindsey walked the red carpet at the Delete Blood Cancer Gala in New York City Thursday night.
Article continues below advertisement
Lindsey, 28, wasn't wearing her knee brace, but said that she plans to get back on the slopes following her accident in Austria and hopes to ski again in September and compete in the Olympics in 2014.
When asked where Tiger was, Lindsey told E! News "He's practicing."
Tiger is sitting out this weekend's golf tournament in Charlotte, North Carolina but will be playing The Players Championship on May 9 in Ponte Vedra Beach, FL, according to his website.
Oddly, Lindsey once waited in Tiger's car for over an hour while he watched his daughter Sam's baseball game with his ex-wife Elin Nordegren.
Their relationship has been called "a carefully crafted public relations move" to rehabilitate the golfer's image while boosting the Olympic skier's fame, and his new girlfriend was by his side in Augusta as he failed to win another green jacket, but Lindsey and Tiger have not made any public appearances together since then, raising a red flag about their relationship.