Tiger Woods & Elin Nordegren 'Reunite' While New Gal Pal Lindsey Vonn Waits In The Car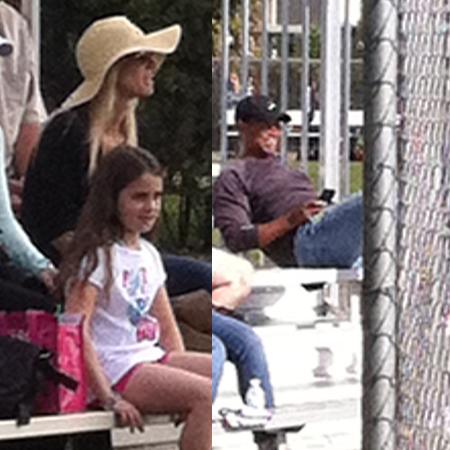 Reunited, and it feels so … blah!
With his new girlfriend, Olympian skier Lindsey Vonn waiting in his Mercedes nearby, Tiger Woods crossed paths with ex-wife Elin Nordegren Monday for more than an hour to watch 5-year-old daughter Samantha play baseball, and we've got the shots for you right here on RadarOnline.com.
The exes, who famously parted ways in a nasty and expensive split that exposed epic cheating on Tiger's part, sat on opposite ends of the Jupiter, Fla. ballpark (a move we previously saw with acrimonious exes Brandi Glanville and Eddie Cibrian.
Article continues below advertisement
Vonn was spotted in the passenger seat of Tiger's car as they pulled away from the game.
Also on Monday, the 37-year-old golfer and Vonn finally confirmed to the public that they're dating.
"I guess it wasn't a well-kept secret but yes, I am dating Tiger Woods," Vonn wrote on Facebook. "Our relationship evolved from a friendship into something more over these past few months and it has made me very happy.
"I don't plan on addressing this further as I would like to keep that part of my life between us, my family and close friends."
Woods wrote on his website, "Something nice that's happened off the course was meeting Lindsey Vonn. Lindsey and I have been friends for some time, but over the last few months we have become very close and are now dating. We thank you for your support and for respecting our privacy.
"We want to continue our relationship, privately, as an ordinary couple and continue to compete as athletes."
As we previously reported, Tiger and the two-time Olympic medalist met last April and began dating in November. Her divorce with skier Thomas Vonn was finalized in January after their November 2011 break-up.
Since her split with Tiger, Elin has been romantically linked to moneyman Jamie Dingman, coal mogul Chris Cline and hockey player Douglas Murray.