Exclusive
The Lohan Wars Rage On! Dina, Michael Blame Each Other For Lindsay's Botched Rehab Plan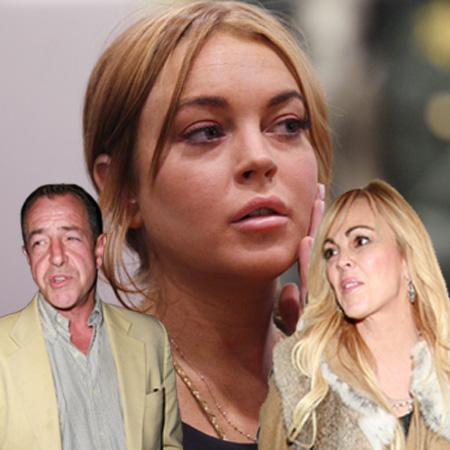 While Lindsay Lohan is safely ensconced in the bosom of the Betty Ford Center, a war is raging on between her parents, and RadarOnline.com has all the exclusive details about their big battle.
Lindsay, 26, was ordered by the court to enter treatment for 90 days on Thursday, but she fled Morningside Recovery in Newport Beach, Calif. after just minutes, despite her lawyer, Mark Heller, telling the judge that she was checked in there and receiving treatment. While the City Attorney scrambled to find Lindsay and was threatening to issue a warrant for her arrest if she didn't comply with the court's orders, just before the stroke of midnight Lindsay brought back her old high-powered attorney, Shawn Holley, to broker her deal at Betty Ford.
Article continues below advertisement
Now both of Lindsay's parents are taking credit for the messy rehab confusion and switch and blaming the other one for the debacle that almost landed Lindsay in jail.
"My ex Michael Lohan had absolutely NOTHING to do with helping my daughter in the end positive result," Dina Lohan exclusively told RadarOnline.com and slammed the father of her four children.
"He was kept in the dark because he leaks everything to the media and acts as If he is a part of this family which he is not."
Michael, who has been outspoken in his criticism of both Mark Heller and Dina, denied his ex-wife's charges.
"Before the rumors start and Dina tries to pin her leak on me, let me say, I knew where Lindsay was going, but would not say to all the media."
Papa Lohan adamantly insisted to RadarOnline.com and said that he was the mastermind behind Lindsay's lawyer switch.
"I have written confirmation that Dina tried selling Lindsay's whereabouts. I also have confirmation that I told Lindsay to fire Heller and hire Shawn. Which she did!"
Dina countered to RadarOnline.com that she believes Michael doesn't have their troubled-daughter's best interest at heart.
"He will do anything for press and only speaks about his celebrity child and cares nothing about his other three children."
Michael says he's had enough of the fighting with Lindsay's mother and that he only wants to make sure his daughter gets healthy.
"Yet while I am tired of being Dina's scapegoat, I will gladly take the brunt of things for my daughter. Every time Dina opens up her mouth, a lie comes out! If she agrees to get help for all her issues, I will participate."