Lindsay Lohan's Mom Blames Dad Michael For Rehab Mess!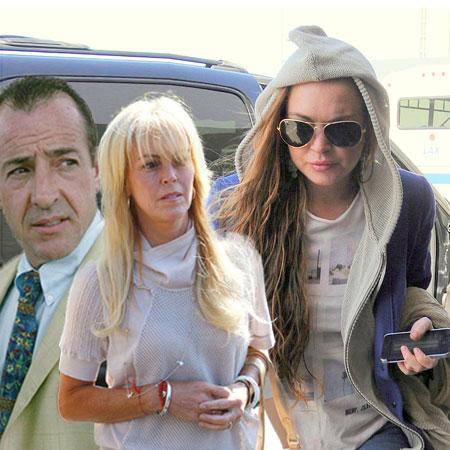 Lindsay Lohan checked into the Morningside Recovery center in California on Thursday and fled literally two minutes later claiming she "didn't need rehab," but her mother Dina exclusively tells RadarOnline.com that dad Michael is to blame for this rehab debacle!
"Lindsay didn't not go to Seafield in New York because of the smoking thing. That's a complete lie. Michael was basically threatening Seafield because he wanted Lindsay to go to the place in Florida," Dina claims.
Article continues below advertisement
"I put Michael in Seafield 15 or 20 years ago and he left in the middle of the night and showed up at my place drunk and out of control. The people running the center remember him and he has serious anger issues."
According to Dina, Lindsay was forced to go to Morningside Recovery instead of Seafield because they refused to take her for fear of Michael!
"They didn't want him ever visiting if Lindsay went there," she told RadarOnline.com.
"It was so bad with Seafield that they basically said Lindsay couldn't go there because they couldn't risk having Michael show up."
As RadarOnline.com exclusively reported on Thursday afternoon, the Mean Girls star showed up to the California treatment facility and then immediately walked right out.
"She told people there that she didn't need rehab," a source familiar with the situation told RadarOnline.com.
"And then she left. Everyone was stunned."
Article continues below advertisement
Michael confirmed Lindsay left rehab telling RadarOnline.com, "I have no other choice than to get this out there to help Lindsay."
So where did Lindsay go? Michael told RadarOnline.com she's headed back to New York, which could spell out big trouble for the 26-year-old.
"If that's the case I have been told that she will be arrested in New York and her bail will be set at $100,000," he said.
Before RadarOnline.com exclusively reported that Lindsay left rehab Dina pleaded, "All I ask for as her mother, is for the press to leave her alone and let her heal."
Dina has been unavailable for comment since Lindsay's flee from Morningside.
Stay with RadarOnline.com as the story develops…
Follow us on twitter @Radar_Online and let us know what you think on our Facebook page.