Is This Woman Fat To You? Kim Kardashian Flaunts Bikini Bump, Challenges Weight Gain Critics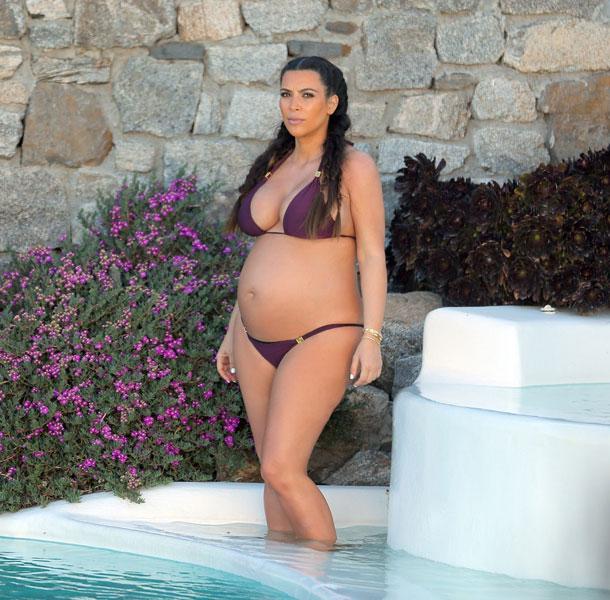 Kim Kardashian dared to bare her curves while on vacation in Mykonos, Greece, amid an avalanche of criticism about her weight gain during her pregnancy -- and RadarOnline.com has the revealing photos.
The 32-year-old E! star flaunted three bikini ensembles while she was on vacation with her family last month.
Wearing braids in her hair, it was the first time that Kanye West's girlfriend had exposed her baby bump -- a courageous move from the popular star, who has had to cope with an onslaught of unfair fat-shaming since she announced her pregnancy in December.
Article continues below advertisement
As RadarOnline.com reported this week, Kim's sister Khloe wrote an open letter this week, which Kim posted on her blog, speaking out against the bullying.
"I find it disturbing that society loves to critique a woman's shape," wrote Khloe, 28.
"I am a first-hand victim to public attacking in regards to my body. That is low in and of itself, but I cannot tolerate one more vicious attack on my sister! For anyone to ever criticize a woman who is growing another life inside of her is true scum."
MORE ON:
Keeping Up With the Kardashians
In an E! News special with Ryan Seacrest, Kim admitted she's been in physical pain "everywhere" and expected something different during the pregnancy.
"I was waiting for this amazing experience where I can just do whatever I want, eat whatever I want, feel great... and it hasn't been that way," she said.