Exclusive
Kim Kardashian's Tell-All With Ryan Seacrest Is 'Damage Control' Before Divorce Trial, Says Kris Humphries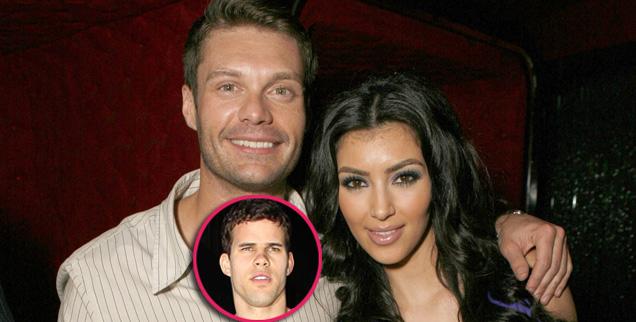 Kim Kardashian's husband of 72-days, Kris Humphries, thinks that his estranged wife is doing a tell-all interview with Ryan Seacrest in a desperate attempt to limit the damage that their divorce trial will cause, a source close to the situation exclusively tells RadarOnline.
Ryan Seacrest With The Kardashians: An E! News Presentation will air on the network on April 21, two months before the eighth season of Keeping Up With The Kardashians premieres on June 2.
Article continues below advertisement
But the television special suspiciously falls two weeks before pregnant Kim, 32, is due to square off before a judge over her failed marriage.
"Kris is very suspicious of the timing," an insider told RadarOnline.com.
"In Kris' opinion, it's definitely being done done as damage control before testimony in the divorce trial, which is expected to reveal that aspects of Kim's reality shows are staged.
"Kim will be forced to testify under oath that scenes of the reality show, including a conversation she had with mom about the breakdown of her marriage to Kris, took place after she had filed for divorce."
As we first reported, the scene was filmed at a sound stage in Los Angeles and not in Dubai as was characterized on their show.
"Humphries believes that the interview with Ryan Seacrest is Kim trying to control and offset the negative publicity she will likely receive."
The American Idol host is also expected to grill Kim about her unplanned pregnancy to Kanye West.
As we reported, the heavily pregnant star has hit a rough patch with West, 35, who wants to reside in France.
Article continues below advertisement
Still, Kim is already making plans to have their baby in Los Angeles so she can be surrounded by her family and friends.
But, said a Humphries source, "Kim will probably want to hide in Paris after the trial is over!"