Kim Kardashian Shares First Photo Of Her Bare Baby Bump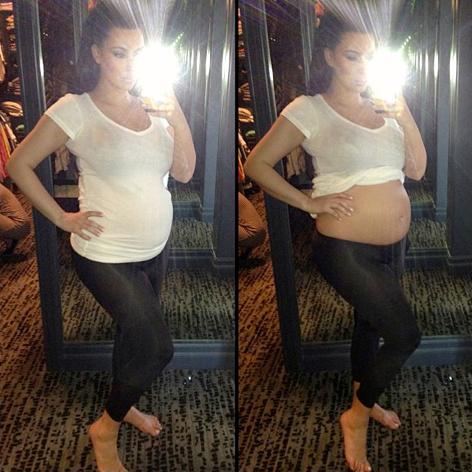 Following in the footsteps of famous baby bump exhibitionists Demi Moore and Britney Spears, Kim Kardashian took to Twitter to post a photo of her bare belly.
The reality TV star has made a string of fashion faux pas since revealing she is expecting a baby with Kanye West, meaning her latest look could actually be her best.
Wearing a simple pair of black leggings and bare feet Kim rolled up her white t-shirt to expose her nearly six-months-pregnant belly and captioned the picture 'Baby Love'.
Article continues below advertisement
The move is a brave one for Kim who has faced backlash over her pregnancy weight gain. She's been branded fat and even been compared to the killer whale, Shamu!
But she seems to have embraced her fuller figure and is now happy to show it off.
"I think it's really cute," she told E! "Now that my belly has popped a little bit, you can really see it, and it's really, I think, a sexy thing."