Jodi Arias Tweets About Suicide, Claims She Would Have Agreed To Plea Deal Years Ago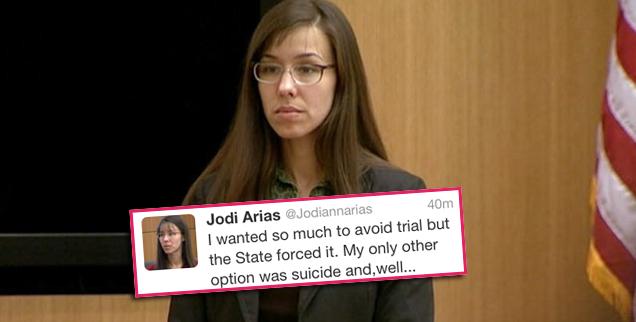 Article continues below advertisement
I would have signed a plea years ago to avoid this disaster, but I was refused a plea as the State and the family refused to settle.
I wanted so much to avoid trial but the State forced it. My only other option was suicide and,well...
Re: commissary,many of the items I didn't receive were for indigent girls less fortunate than me. I,thankfully,have a mini surplus of food.
N. DisGrace has set back the cause of all women who have survived domestic violence. Her circus makes a mockery of something very serious.
As we previously reported, prosecutors claim Arias, a waitress/photographer, brutally killed her former lover Travis Alexander in a jealous rage on June 4, 2008 by cutting his throat, stabbing him in the heart and shooting him in the head.
Arias said she was defending herself from Alexander, who had subjected her to bouts of domestic violence in their relationship.
She has pleaded not guilty to first-degree murder. If convicted, she could face the death penalty or life in prison.
The jury will continue its deliberations on Tuesday; stay with RadarOnline.com for up-to-the-minute details.