Inmates Review Prisons On Yelp -- 'Lumpy Beds But The Food Was Great!'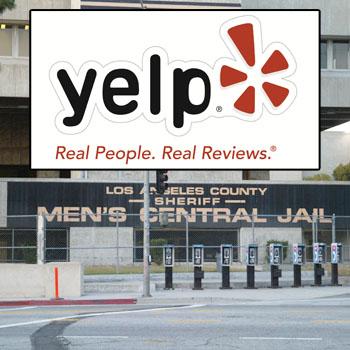 For anyone looking for the best breakfast spot in town, a cool sports bar or even a reliable plumber, Yelp.com is an essential resource – and now the go-to online guide even has prison reviews!
Purported inmates, employees and visitors have all been logging on to dish details about popular penitentiaries from Rikers Island in New York to San Quentin State Prison in California, reported ABC News.
"Overall, the jail was pretty miserable," one disgruntled reviewer wrote about his stay at Cook County Jail in Illinois after an arrest in Chicago on "a case of mistaken identity," complaining that "the beds were very uncomfortable and my bunkmate was frequently rude.
Article continues below advertisement
"The only reason that I'm giving it two stars is because of the food; it was great and very reasonably priced. I suggest chicken mole, boeuf bourguignon, or cannelloni ricotta e spinach," he recommended to future inmates.
One sarcastic Rikers resident boasted about "a terrific getaway on this luxurious island retreat," but then went on to describe the jail's less-pleasant conditions -- but on the plus side added that it taught him a valuable life lesson.
"Thank you, Rikers Island: it took me just a few weeks to realize I would never drink and drive again."
Cheaper than any Hollywood hotel, the L.A. County Jail got a witty write-up. "So there it is … free place to stay, free food, free services … and a 0 star rating on Yelp."
Unlike restaurant-owners who pour over Yelp and obsess about any negative comments, a spokeswoman for the California Department of Corrections and Rehabilitation told ABC that she was aware of the phenomena but didn't have time to worry about it.
"Inmates have formal ways to make complaints. There's a process for that," she explained. "There are mechanisms in place for people to launch any issues or concerns they have."
Rather than being a legitimate guide – as inmates don't have a choice of where they eat or sleep after being arrested – the posts appear to be a way for them to vent grievances to a world wide audience.
"These types of reviews demonstrate the desire of the community to share their personal experiences with all types of businesses, services and places," Yelp said in an official comment.