Exclusive
Where's Demi? Moore A No-Show at Daughter Scout's Ivy League Graduation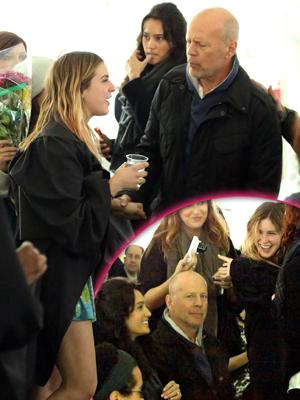 It was a happy family scene on Sunday as proud father Bruce Willis sat at a table at Providence Coal-Fired Pizza, with daughters Rumer, Tallulah, and Scout, who had graduated from Brown University earlier that day.
Even Bruce's wife, Emma Hemming, shared in the joyous evening. But there was one person missing: Scout's mom, Demi Moore.
"The buzz was that Demi was supposed to come in, but everyone was wondering where she was," an insider tells RadarOnline.com. "She was nowhere to be seen all weekend, but everyone seemed to be having a perfectly good time without her."
Article continues below advertisement
Indeed, Moore was MIA earlier that day as Scout received her degree. The rest of the family and Rumer's boyfriend, Jayson Blair, were there.
Says another source: "Bruce was spotted all around town starting on Friday, shopping and eating out with Emma. Everyone was wondering where Demi was."
She likely wasn't with her boy toy, pearl diver Will Hanigan, who was spotted in Australia sans his sugar momma last week.
As RadarOnline.com has reported, Demi's daughters have been apprehensive about renewing their relationship with her in the wake of her divorce from Ashton Kutcher and stint in rehab.