Plus Size Is Not Fat! Curvy H&M Bikini Model Jennie Runk Explains Why She Chose To Pack On The Pounds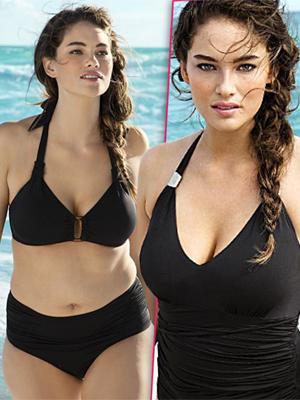 Curvy H&M bikini model Jennie Runk is "plus-size" and proud of it!
The 24-year-old, who has recently grabbed attention for starring in the Brit mega-brand's latest swimwear campaign, was faced by a choice when she decided to be a model: Lose weight and be a runway model or gain weight and pursue a career as a plus-size model. In a new editorial for the BBC, she explains how she went from struggling with body image issues as a teen to making the career-changing decision to pack on the pounds and how her recent rise to fame has inspired girls around the world – and RadarOnline.com has the details.
Article continues below advertisement
Runk, who admits she is shocked by the publicity her sexy bikini campaign has accumulated, is thrilled that she has provided inspiration for curvy girls to "try on a bikini for the first time in years."
"This is exactly the kind of thing I've always wanted to accomplish, showing women that it's OK to be confident even if you're not the popular notion of 'perfect,'" she explained. "This message is especially important for teenage girls. Being a teenage girl is incredibly difficult. They need all the help and support they can get."
A US size eight when she was 13-years-old, Runk felt pressure to be thin and envied girls with skinnier bodies.
"Gym class was a nightmare. While the thin girls were wearing shorts, I was wearing sweat pants because my thighs were the size of their waists, and those pants were embarrassingly short because I was taller than the average adult, but still shopped at (pre-teen clothing store) Limited Too," she reminisced about her youth.
Article continues below advertisement
"On top of all this I've always been rather clumsy, so to say that my adolescence was awkward is an understatement."
Surviving the trauma, she hopes to be a role model for girls going through the same thing.
Discovered at Petsmart when she was a teen, Runk was faced with a dire decision.
"I was given the option to lose weight and try to maintain a size four, or to gain a little - maintain a size 10 - and start a career as a plus-size model. I knew my body was never meant to be a size four, so I went with plus," she explained.
Now, proud of her curvy body, she is disappointed with the connotations that the term "plus-size" comes along with.
"People assume 'plus' equates to fat, which in turn equates to ugly. This is completely absurd because many women who are considered plus-sized are actually in line with the American national average, or a US size 12/14," she states.
"There shouldn't be anything negative about being the same size as the average American woman, or even being a little bigger. Some women are perfectly healthy at a size 16."