Exclusive
Camille Grammer -- Who Carries Same Cancer Gene As Angelina Jolie -- Applauds Star For Encouraging Dialogue, Testing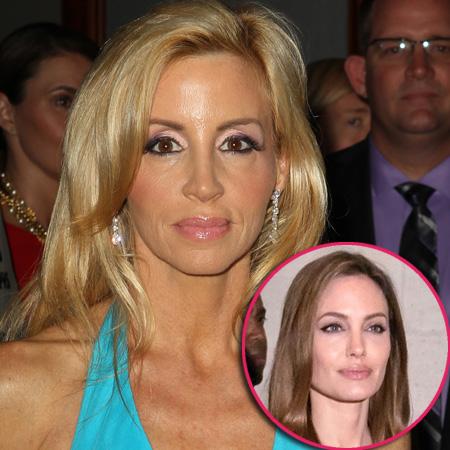 Former Real Housewives of Beverly Hills star and Kelsey Grammer's ex-wife, Camille, who carries the BRCA 2 mutation linked to ovarian cancer, applauds Angelina Jolie's decision to go public with her preventative double mastectomy to reduce her chances of getting breast cancer, RadarOnline.com is exclusively reporting.
Just last week Jolie revealed, in a piece for she wrote for the New York Times, she had a preventative double mastectomy after medical tests indicated she had the "faulty" BRCA1 gene, which left her with an 87 percent chance of developing breast cancer – the same disease that killed her mother.
Article continues below advertisement
Grammer's mother was diagnosed with ovarian cancer several years ago, and the blonde beauty discovered through medical tests that she was a carrier of the BRCA 2 mutation.
The BRCA 2 mutation also increases the chances of a woman developing breast, ovarian, and colorectal cancers but isn't as aggressive as the BRCA 1 mutation.
"I absolutely applaud Angelina Jolie's decision to go public with the fact that she has is a BRCA 1 mutation carrier, and had a preventative double mastectomy. I have always admired Angelina's work as an actress, humanitarian, but have a new level of respect for her," Camille told Radar.
"Angelina was extremely brave to have the test done, and then to reveal it publicly, to raise awareness with undoubtedly save many lives. She obviously loves her partner, Brad Pitt, and their six children, and wants to live a very long life, which hopefully she will."
Doctors have recommended that Camille, 44, get a hysterectomy but she says, "I'm just not ready psychologically for that. If they said it was necessary, of course, I would do it right away. I get my yearly cancer screening tests, including the blood test, CA125 which detects ovarian cancer, mammogram, colonoscopy and endoscopy.
"I'm all about detection as being the best prevention of most cancers."