Terror At The Boston Marathon: 7 New Developments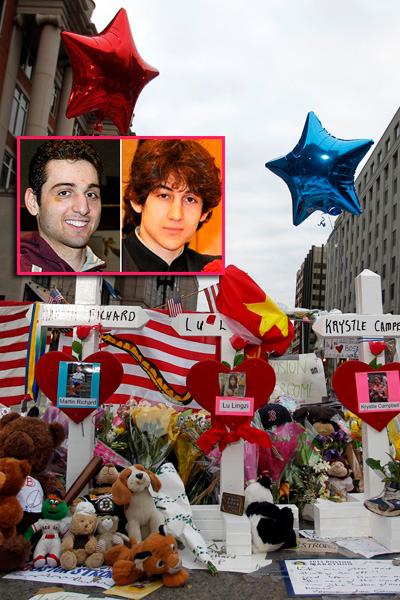 We've got all of Friday's latest developments in the wake of the April 15 bombing at the Boston Marathon that left three people dead, more than 260 inured, and 14 people without all or part of a limb.
1. Attack Originally Set For 4th of July
Surviving suspect Dzhokhar Tsarnaev, 19, said he and his dead brother Tamerlan initially earmarked their attack for July 4, U.S. Independence Day, but since they were ahead of schedule building the explosives, they targeted the marathon instead.
Article continues below advertisement
The city's Boston Pops Fireworks Spectacular, which is held on that day and broadcast on CBS, draws an average of 500,000 attendees per year. Dzhokhar Tsarnaev said the call to focus their destruction toward the marathon came only a day or two before the race.
2. Dead Bomber's Body Claimed
Tamerlan Tsarnaev's remains were claimed from a Boston funeral home by his family Thursday, according to Department of Public Safety spokesman Terrel Harris.
Ruslan Tsarni -- the uncle of the suspected terrorists who famously decried their actions on national TV -- said his side of the family would take the body after Tamerlan's widow Katherine Russell requested it be sent to his side of the family.
"Of course, family members will take possession of the body," Tsarni said. "We'll do it. We will do it. A family is a family."
3. Victims To Get Paid
Kenneth Feinberg, an attorney in charge of The One Fund, the charity set up for the victims of the blasts, said the families of the three people who died could get more than $1 million apiece as part of a tentative compensation proposal set to be delivered next week. Those who lost multiple limbs could get comparable payouts, Feinberg said, while victims who lost one limb could get nearly $1 million.
Article continues below advertisement
The One Fund has raised more than $28 million in less than three weeks since the bombing.
4. "They're Not True Muslims"
Anwar Kazmi, an official with Islamic Society of Boston -- which runs the mosque where the Tsarnaev brothers worshipped at -- dubbed their actions a "grotesque perversion of the teaching of our faith" during an interfaith service Thursday night.
Kazmi quoted the Muslim prophet Muhammad in saying that true Muslims would not take actions to scare their neighbors.
MORE ON:
Tamerlan Tsarnaev
5. Profiling Problems
The investigation of the bombings shows the precarious line officials walk when it comes to racial profiling, Supreme Court Justice Sonia Sotomayor said Thursday while speaking to students at the dedication ceremony for Denver's Ralph L. Carr Colorado Judicial Center.
"It's a fine line society walks in trying to be fair," said Sotomayor, who said she faced profiling -- in the form of low expectations -- when she became the first Hispanic on the Supreme Court in 2009, adding she's "having fun proving her critics wrong."
Article continues below advertisement
6. Tragic Trickle Down
The father of one of the students arrested this week in connection with assisting Dzhokhar Tsarnaev said he's "shocked by the charges brought against them."
Murat Kadyrbayev, who's son Dias stands accused of conspiracy to obstruct justice by concealing and destroying evidence, told Kazakhstan news outlet Tengrinews.kz, "As a father I am 100 percent sure that my son could not possibly have had any relation to the tragic Boston events. He is only a teenager. He is still a kid. I am sure the boys couldn't have committed any intended wrongdoing. They are only kids."
He called the U.S. "the most democratic country" and said he's relying "on American justice" to run its' course in giving his son a "not guilty" verdict.
Watch the video on RadarOnline.com
7. Explosive Revelations
The bombs that caused the massive destruction at the marathon were constructed in the apartment Tamerlan Tsarnaev lived in with wife Katherine Russell and their daughter, an unnamed U.S. law enforcement official told CNN Thursday. Through her attorney, Russell has denied knowing about her late husband's suspected involvement in the marathon bombing.