Ouch! Zac Efron Spotted In ER With Bandaged Arm!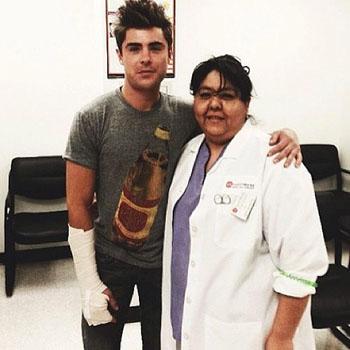 Looks like Zac Efron isn't doing so well!
The 25-year-old High School Musical star, currently filming new movie Townies alongside Seth Rogen in Los Angeles, was spotted wearing a mysterious cast on his arm Friday morning and RadarOnline has the picture!
Despite his obvious injury, the teen heartthrob took time out to pose for a picture with a nurse/fan who looked delighted to see him!
Casually dressed in a t-shirt and jeans, the early morning appointment didn't do wonders for his normally immaculate appearance, in particular his unruly bed head!
Article continues below advertisement
As RadarOnline.com previously reported, Zac has picked up a lot more grown up female fans recently as he steps out from his Disney teen heartthrob persona and into Hollywood's latest leading man.
Last year, the Lucky One actor accidentally dropped a condom from his pocket at a red carpet event and was pictured rummaging around in his pants Down Under.
And he also revealed what he loves most about his lady friends and how much game he has in his dating life.
"Lips," he told Women's Health on what his favorite female body part is. "Because they smile. And they're fun to kiss."
He also revealed that he doesn't mind poking fun at his breakout role to help him get chicks when he is on the prowl.
"So do you like High School Musical?" he joked about his favorite pick up line. "I'm kidding! If the situation's right, buy someone a drink. Think on your toes, use what's around you, and come up with something organic and fun."