Exclusive
It's All Teresa Giudice's Fault! She Caused The Fight That Started The Bloody Brawl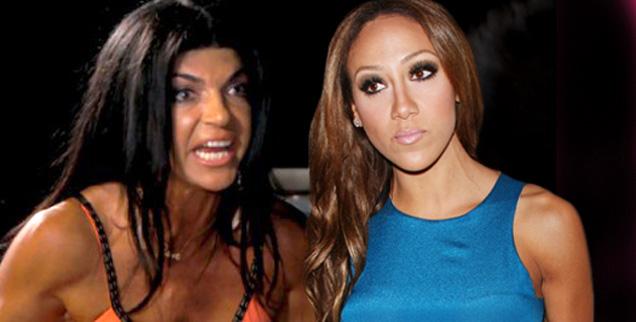 Article continues below advertisement
"Teresa has been talking sh*t about everyone on the show, and she roped Johnny and Penny Karagiorgis into doing her dirty work this season," the source exclusively told RadarOnline.com.
"Melissa Gorga had had enough of the lies she says they're spreading about her, so Teresa finally said she would confront Penny, which did not go well because she denied any of her involvement!"
"Teresa tried to tell Melissa that she and Penny weren't even friends, but Penny called her out! Penny started screaming that she and Teresa talk on the phone all the time, that they talk for hours each night and says that she even has phone records, which makes Teresa furious!
"Instead of arguing back or denying that she did ever talk to Penny, Teresa just kept screaming over and over again 'Whatever, bitch!' and then told her to 'F*ck off!'"
That's when the source said Melissa tried to end the bickering with the two women.
"She told Teresa and Penny that they needed to stop spreading lies about her."
According to the source, Teresa and Penny have been friends for a while and she has been plotting to destroy her sister-in-law's reputation, so now she is terrified that Penny is going spill the beans about their relationship and show her phone records that prove that they've been talking.
"Teresa is so scared about these phone records coming out! Even though she tries to play nice her hatred for Melissa will not stop. She's brought in these other people to destroy Melissa and now it is finally backfiring!"