Exclusive
RHONJ Bloody Brawl! Teresa Giudice Blamed For Outrageous Fight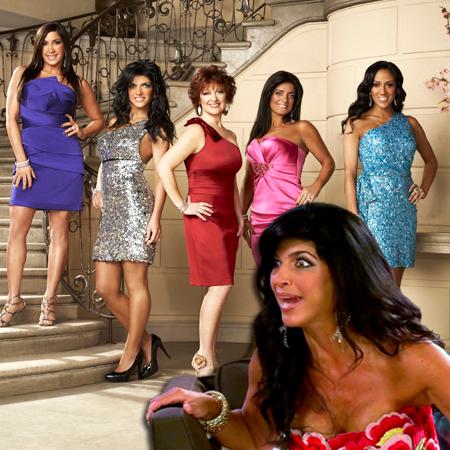 The good feelings and group hugs were never going to last on Real Housewives of New Jersey!
As season five wraps up, the ladies in Jersey have been nothing but nice to each other, from group therapy to double dates and friendly birthday parties, but all of the women were walking on egg shells worried about the drama that was sure to come, and it finally happened this weekend at a full on bloody brawl with Teresa Giudice front and center, and RadarOnline.com has all the exclusive details!
Article continues below advertisement
While Teresa has tried to play nice with Melissa Gorga, all hell broke loose at Kim D's new Posche store opening on Saturday night, and according to eyewitnesses the drama started when Melissa's husband confronted the people who have been spreading rumors about her, and the person they blamed was none other than Teresa!
"Joe Gorga approached a guy named Johnny Karagiorgis and confronted him about all the things he's said about Melissa on Twitter, and Johnny admitted he was writing about her," a spy exclusively told .
"As the two guys were arguing, Joe asked Johnny where he got all his misinformation and Johnny replied, 'Why don't you ask your sister?'"
Jacqueline Laurita's husband Chris then joined Joe and confronted Johnny over his allegations that the Laurita's had made up their son's autism diagnosis.
That's when the conversation turned violent!
"Johnny was not backing down, and that's when they all started to exchange blows!" the spy said.
Article continues below advertisement
"Jacqueline kicked off her shoes and bitch smacked Johnny on the back of his head!"
"This is where the Manzo boys along and Lauren Manzo jumped in out of nowhere to break up the fight!"
"Bowls were broken, glass everywhere," the eyewitness said, and revealed the fact that Teresa and Joe Giudice were there watching it all unfold!
"Even though Teresa was blamed for the fight, and Jonathan said she was the one telling him all of the gossip about Melissa, she and Joe didn't do a thing, they just watched it all unfold and didn't even step in to try and stop the fight!"
Security finally intervened and "escorted a very bloody Johnny out of the party. There was blood everywhere, on the floor and even on the walls."
Of course, everything was caught by Bravo's cameras, so all of the bloody violence is sure to be a dramatic ending for the season!