Exclusive
Brawl Boaster Busted! Man Claiming He Suffered 'Serious Medical Injuries' In Joe Gorga Punch Up Deletes Tweet Indicating Otherwise!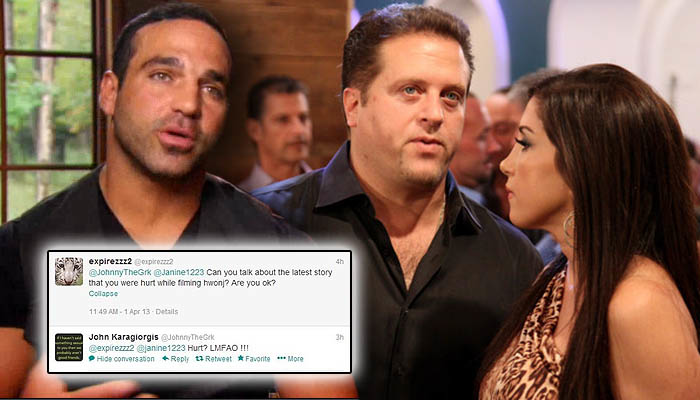 The bloody brawl involving Real Housewives of New Jersey cast members last month is turning into a legal nightmare - and adding even further to the drama, RadarOnline.com has exclusively uncovered evidence that the non castmember involved in the melee may not be telling the truth, the whole truth and nothing but the truth, when it comes to the injuries he is claiming he sustained!
RadarOnline.com was first to report on the knock down drag out bust up, which involved Johnny Karagiorgis getting into a punch up with Joe Gorga along with Christopher and Jacqueline Laurita on March 30 at Kim D's Posche Boutique party - and Karagiorgia filed a complaint with police Tuesday - one day AFTER he bragged on Twitter that he wasn't hurt in the fracas!
Article continues below advertisement
Johnny sustained "serious medical injuries" according to his attorney Nicholas Sekas, who told In Touch magazine that his client wants to "seek justice at every level."
However, on Monday, April 1 Johnny responded to a Twitter query asking: "Can you talk about the latest story that you were hurt while filming hwonj? Are you ok?"
He brashly responded "Hurt? LMFAO!!"
He subsequently deleted the Tweet but RadarOnline.com saved a screenshot of his macho words and they may come back to haunt him!
"Johnny is out for money and fame in this situation," a source close to the hit reality show tells RadarOnline.com.
"He knew that he got his ass handed to him on camera and he is embarrassed, so he's either trying to cover that up or try and get Bravo to give him money. Either way it is a cry for attention."
Ridgewood Police Captain Jaqueline Lutke confirmed that "charges are pending at this time against the three individuals," but the final charges have not been signed off on by the court.