Exclusive
'Dude, She's Dumb': Jenelle Evans Fires Back At 'Teen Mom' Costar Farrah Abraham Against 'Stalking' Claim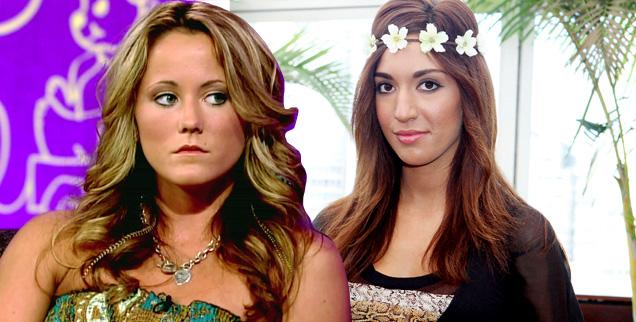 Farrah Abraham raised the stakes in her bitter feud with Jenelle Evans and the latter took the bait.
Following 21-year-old Farrah's blistering statement to RadarOnline.com, in which she slammed her "struggling" MTV costar and suggested she was "stalking" her, Jenelle took to Twitter Monday morning to label her one-time pal "dumb".
She tweeted: "Dude she's dumb. I made one keek video about her and now she thinks I'm obsessed?"
Article continues below advertisement
Here's the backstory: Farrah came to RadarOnline.com after Jenelle took to video sharing website Keek and mocked Farrah -- it was recorded just a few days before her arrest for heroin possession -- declaring she was "annoying the sh*t" out of her.
"Who do I sound like?" laughed Jenelle, before imitating a similar video Farrah recorded after she was busted for a DUI.
In response, Farrah said:
"From one helpful and concerned Teen Mom to another Teen Mom, who is clearly struggling, I think it is in your best interest to detract from spouting jealous attacks towards myself and other successful, positive and great mothers," said Farrah, who recently filmed a sex tape that sold Monday for well less than the $2 million she had wanted.
"She seems to be following in my footsteps with everything from my Keek videos, my plastic surgeries and my unfortunate personal legal issues that I'm dealing with at this time. I have nothing negative to say in response to her continuous and horrible comments about me. Whatever she says is her opinion.
"One thing I do have to say is, if she doesn't like me, why are you looking and tracking everything I do?"
In a second Tweet Monday, Jenelle denied that an earlier tweet was about Farrah, in which she called recording sex "skanky."
"The tweet I posted yesterday about a "sex tape" was not about YOU Farrah," Jenelle retorted.
So, whose side are you on? Weigh in on the comment below.
Be sure to follow us on Facebook and tweet us @Radar_Online.