From Teen Mom To Porn Star: Farrah Abraham Shows Off Her Sex Tape Assets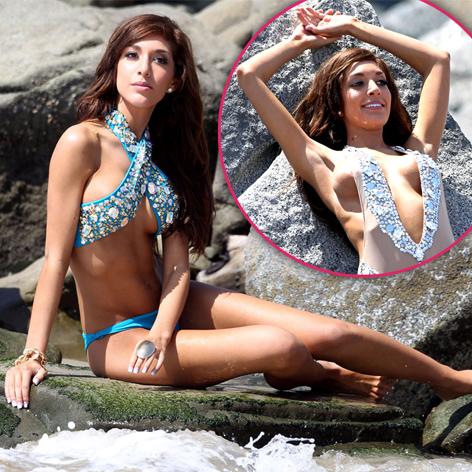 Former Teen Mom star Farrah Abraham is on the fast track to becoming one of MTV's most scandalous stars and RadarOnline.com has all the latest photos of the half-naked reality star romping on the beach.
The same day Farrah reportedly filmed a porn flick with Lindsay Lohan's The Canyons co-star and porn star James Deen - after failing to shop her own homemade sex tape with an ex-boyfriend - the 21-year-old mother showed off her greatest assets while doing a photoshoot for the Poolside Collection bikini line on Sunday.
Article continues below advertisement
Sporting a blue and turquoise two-piece and a sexy bedazzled one-piece Farrah frolicked on the beach, jumping off rocks while showcasing her $5,000 boob job.
As RadarOnline.com exclusively reported on Monday, Farrah was behind the shopping of a sex tape made with an ex-boyfriend and when it failed because of legalities, the Teen Mom teamed up with Vivid Entertainment to film a legal porn video.
"The original sex tape shows Farrah having intercourse and giving oral sex to ex boyfriend," a source revealed. "A third party was involved in the sale, but Farrah was also secretly involved. She wanted it out because she's desperate to be relevant again. The problem is that there's no release for the sex tape because both parties need to sign off on it."
Los Angeles sex tape broker Kevin Blatt told RadarOnline.com that Farrah and James are both over 18 and signed releases with Vivid for the porn they filmed so profits can legally be made.
"The 18 USC 2257 release states that both parties must be over 18 and consent," Blatt said.