Exclusive
Lousy Apology! Shia LaBeouf Wants To End His Public Feud With Alec Baldwin, But Insults Him Again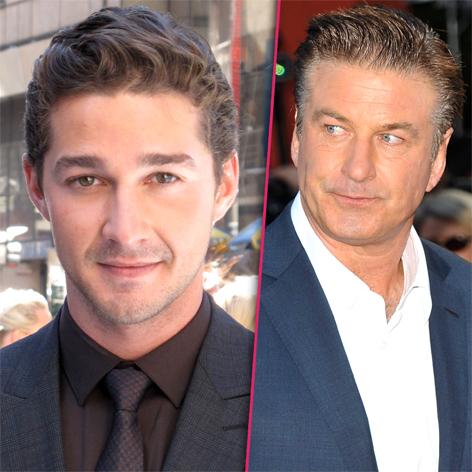 Shia LaBeouf has confided to pals that he wants to put an end to his feud with Alec Baldwin , RadarOnline.com is exclusively reporting.
The Lawless star has grown tired of the public spat between the pair since his controversial departure from the Broadway play Orphans and thinks it would be more professional if they just dropped the animosity.
But the hot-headed actor couldn't resist taking yet another dig at the 30 Rock star, insisting Baldwin, 55, is old enough to know better about washing their dirty laundry in public.
Article continues below advertisement
"Shia's had enough now, he wants to end his feud with Alec ever happened," a friend close to Shia reveals to Radar. (Note to Shia: You might want to try a different approach!)
"It's gone on for too long and, as far as he's concerned, the drama has blown over now. Shia won't forget it , but he doesn't want it brought up again.
"He thinks it's unprofessional to keep the fighting up for this long and he wants to be the bigger man and just drop it.
"Shia was actually amused that Alec brought it all up again in a recent interview, because he thinks Alec should be old enough to know better," the source reveals Shia said.
As RadarOnline.com previously reported, Alec isn't done dissing Shia, who left Orphans after escalating tension between the two actors became unbearable. Alec told The Hollywood Reporter that the 26-year-old's age and ego were to blame for his bad behavior.