Reality TV Tragedies: Shocking Suicides, Murders, Car Crashes And Overdoses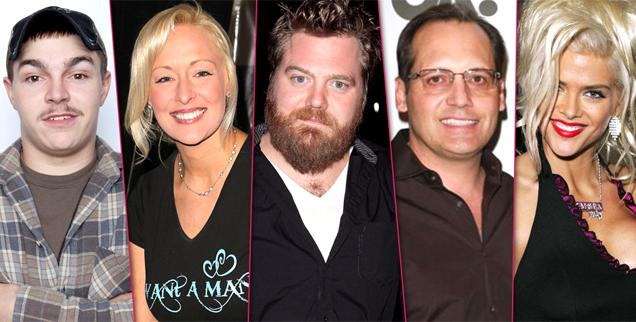 It's not all glitz and glamour for reality television stars.
Shain Gandee, the star of MTV's Buckwild, who was found dead in a vehicle with two other bodies on Monday, is not the only reality star whose life has come to a tragic end or who has been touched by tragedy. RadarOnline.com has photos and details about reality television's most horrific suicides, murders, car crashes, drug overdoses and untimely deaths.
Article continues below advertisement
Anna Nicole Smith's supermodel days came to a close when she decided to expose her bizarre life on The Anna Nicole show, but it was her unexpected death that really shocked her fans. The gorgeous blonde was found dead of "combined drug intoxication" at the Hard Rock Hotel and Casino in Florida in February 2007. Howard K. Stern and Khristine Eroshevich, Smith's psychiatrist, were convicted of conspiring to provide prescription drugs to the bombshell, in October 2010.
MORE ON:
Russell Armstrong
The lives of The Real Housewives of Beverly Hills stars were jolted in August 2011 with the suicide of Taylor Armstrong's estranged husband Russell, who was found hanged in the bedroom of a friend's home in Los Angeles.
Jackass star Ryan Dunn's life came to a tragic end in June 2011, when after a night at a Pennsylvania bar, he crashed his Porsche 911 GT3 into a tree.
Country star Mindy McCready publicly struggled with drugs and alcohol for several years before checking into Celebrity Rehab. After the suicide of her beloved boyfriend and baby daddy, David Wilson, McCready couldn't keep it together, and was found dead of a self-inflicted gun shot in February 2013 at the age of 37.
What other reality stars have experienced tragedy? Find out by clicking here.