Police Dog Thrown Out Of Window By Criminal Defies Death, Being Tested For Brain Damage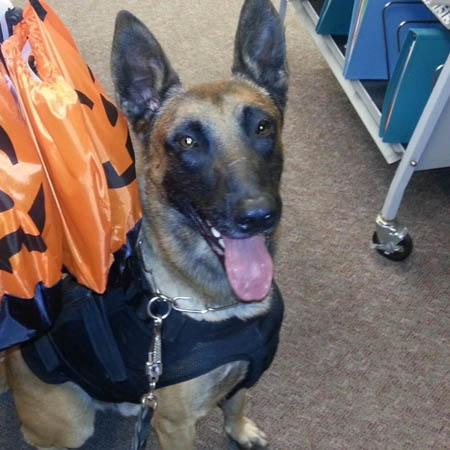 A brave police dog who defied death after being pushed from a second-story window on Sunday is being tested for suspected brain damage.
Jaris, a 6 1/2-year-old Belgian Malinois, was struck down in the line of duty while chasing 28-year-old parole violator Bryan Bills, who police believed was armed and dangerous, the San Bernardino Sun is reporting.
Officers had gone to Bills' home in Fontana, Calif., to arrest him, but when the wanted man tried to climb out of an upstairs window, they sent the canine cop in to apprehend him.
Article continues below advertisement
Unfortunately, the suspect used the dog's momentum to his own advantage, throwing the poor pup out of the open window and he crashed onto the concrete below.
"This is a first," said Lt. Gary Aulis, head of the department's K-9 program.
"Of the dogs injured in the line of duty, we've never had something even remotely like this happen. "
Jaris was treated by a veterinary specialist for his injuries, which included a severe gash to the head, which is now wrapped up in a huge bandage. He has worked for the Fontana Police Department since 2008 and has previously suffered minor bumps and bruises on the job - either from being struck by suspects or during searches – but never anything so severe.
"Most suspects can't just sit there when they're being bit by a dog," explained Aulis. "They hit, kick, pull, whatever they can do to get the dog off of them. "
His attacker has since been arrested on suspicion of injuring a police dog, resisting an officer and violating parole.