Exclusive
Omarosa Slams Michael Clarke Duncan's Sister: I Will NOT Be Extorted!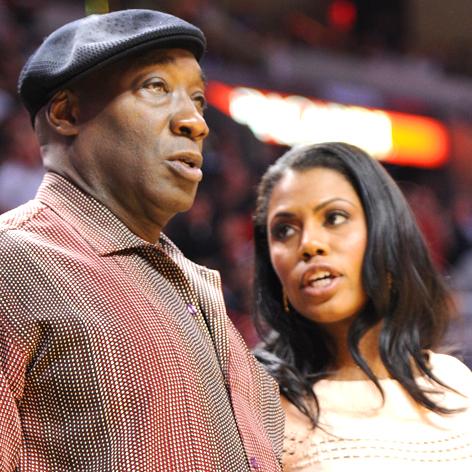 Do not mess with Omarosa!
Michael Clarke Duncan's tragic death left his fiancée devastated by the loss, and now RadarOnline.com has exclusively learned she's striking back against his sister who, she claims, is demanding money from her!
"I will not be extorted by Michael's sister," the Celebrity Apprentice star said about the situation.
"His estranged sister, Judy Falzone, called me right after Michael died asking for money and personal items of Michael. I told her she has to speak to the Trustee of the estate.
Article continues below advertisement
"She said she was cutting me off from his mother unless she got money immediately from the estate. I could not believe she was trying to leverage access to Michael's mother to get more money from the will!"
According to a recent radio interview, Michael's estranged sister is now peddling the story that Omarosa has coldly cut off Michael's family, including his mother Jean Duncan, but multiple sources have adamantly denied these claims.
"All of Michael Clarke Duncan's money is controlled by his executors and attorneys; Omarosa doesn't have access or control over his money. She has nothing to do with how his money is dispersed," a source close to the situation toldRadarOnline.com
"The money for his mother was put into a secure trust after his death and is controlled by a trustee. His sister Judy is angry because she can't touch that. The executors of the will are fairly handling his estate and finances."
Article continues below advertisement
According to the source, the Green Mile star did in fact take care of his sister financially.
"Michael was estranged from his sister for years, and he didn't want to leave her any money, but he left her about $100,000 since she was his mother's caretaker. That's really generous considering he didn't have a close relationship with her."
Omarosa told RadarOnline.com that she had a strong relationship with Michael's mother Jean while her fiancé was alive.
"Michael's sister will not allow me to see Michael's mother now or talk to her on the phone because she wants money and it is just devastating and cruel. It is not right for her to cut me off from his mother just because she is displeased about how much money she got in his will. I am truly concerned about his mother's care and well being. I pray that his mother is being well cared for. Michael was adamant about that."