Exclusive
Omarosa Suing La Toya Jackson For 'False, Vicious & Defamatory' Comments About Fiance's Death!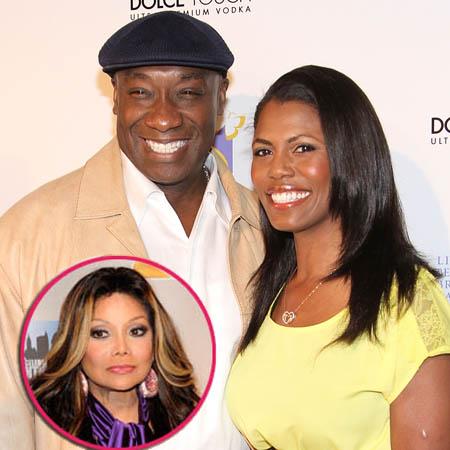 Article continues below advertisement
"She's a conniving, scheming, cut-throat, probably pulled the cord on Michael Duncan Clarke … and I thought Mr. Trump was falling for that fake cry. Such a lie!" LaToya said after she was fired in the boardroom.
"La Toya Jackson's statement on the March 17, 2013 episode of All-Star Celebrity Apprentice, that the Reverend Omarosa Manigault caused her fiancé Michael Clarke Duncan to die, is false, vicious and defamatory," Omarosa's attorney told RadarOnline.com in an exclusive statement Monday.
"Rev. Manigault has been heralded as a life saver for her actions on the evening that her fiancé suffered a life-ending heart attack. It is because of her bravery that Mr. Duncan -- the love of Rev. Manigault's life -- was able to live for months beyond that tragic night. Mr. Duncan passed away from natural causes.
"Ms. Jackson made the statement immediately after having been "fired" off the show, and blames Rev. Manigault for her loss. It is repulsive and of the lowest level of class for Ms. Jackson, who showed herself to be a "sore loser" in making these disgusting statements in the wake of Rev. Manigault's tragic loss."
Omarosa's attorney said that they are planning to take action after LaToya's comments.
"As her counsel, we have been directed to pursue these defamatory statements to the fullest extent of the law with La Toya Jackson and any other participating publications or media outlets who repeat or repost these statements."