Here We Go Again! Nicollette Sheridan Gets A New Court Date For Desperate Housewives Lawsuit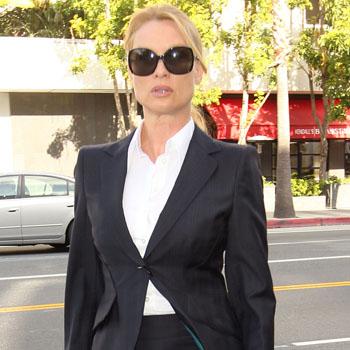 Nicollette Sheridan is not giving up when it comes to her wrongful termination suit against Desperate Housewives!
The 49-year-old actress, whose high profile lawsuit against the show and its creator, Marc Cherry, ended in a mistrial in March 2012, will head back to the courtroom on December 2, 2013, Los Angeles Superior Court judge Michael Stern ruled on Monday – and RadarOnline.com has the details.
Article continues below advertisement
In June 2012, Sheridan's suit, which had gotten a new trial date of September 10, 2012, was tossed out of court by an appeals court that stated Touchstone Television/ABC should have won the case.
In August 2012, the judges ruled in Sheridan's favor, after her legal team filed an amended complaint under the California Labor Code, which protects employees from losing their job if they file a complaint regarding workplace safety.
Sheridan's new trial will limit her to suing for only loss of wages and benefits, which will be extremely less than the $20 million she initially filed for in April 2010.
Got all that? Good! Basically it means she's not giving up and neither is the other side!
Sheridan experienced another legal setback in November 2012 , when the California Supreme Court ruled it would not hear an appeal on her case.
Sheridan initially claimed she was fired from the former ABC series after she complained to Touchstone and ABC execs that Cherry had hit her in the head. The battery allegation was tossed out by a judge, as were sexual harassment claims made by the actress.