Kyle Richards 'Happy' Real Housewives Of Beverly Hills Season Has Ended, Says A Lot Of Relationships Were Broken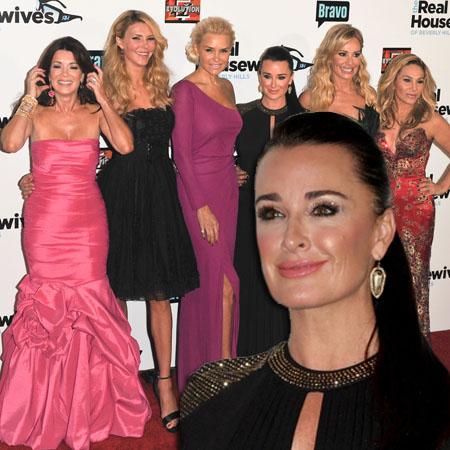 Article continues below advertisement
She said that Brandi was ignorant of the backstory with her sometimes-struggling sister.
"Nothing could be further from the truth," Kyle wrote in response. "My sister's battle with alcohol has been going on for many years. Nobody can even begin to imagine what we have gone through. I will not share those stories with Brandi or anyone else.
"Even if it means making people understand. It's far too private and painful."
As far as Kim, she said her sister's disappointment with her -- after she remarked that Kim didn't seem sober -- was misconstrued, as she meant the term as an umbrella phrase not limited to boozing.
"When I used the word 'sober' I didn't know that people would associate that only with alcohol," she explained. "I certainly did not mean that. I knew what was going on with my sister was some kind of medication.
Article continues below advertisement
"Although I didn't know it was an accident, I knew it was NOT alcohol."
The only castmate she had a kind word for was Taylor Armstrong, who she praised for defending her during the reunion.
"Taylor knows much more than Brandi ever will about Kim's and my relationship -- she has seen first-hand -- she doesn't know everything, but enough to know how much I care about and love my sister," she said.
The former actress/model also took umbrage with her castmate Yolanda Foster, who she traded words with at the show's reunion, after the outspoken Dutch beauty (who also has a modeling background) denied Kyle's accusation that she badmouthed Lisa Vanderpump during their trip to Paris.
"I was still in absolute shock that Yolanda went out of her way to be so mean to me," Kyle wrote. "We had never had ANY issues. It felt to me that there was a planned 'attack' on me and she was sticking to the plan.
She said she "lost any respect I had for Yolanda for lying during the special."
The mother-of-four added that she still harbors hard feelings for castmate Lisa, after the SUR restaurateur implied she only nurtures friendships for business purposes. She added that an off-camera rift between the show's first and second seasons with the elegant Dancing with the Stars contestant "led to where we are now."
She said that it "really bothered" her when the cast threw barbs at her husband, Mauricio Umansky for behaving aggressively, at times.
"My husband has so much integrity and is a kind and gentle soul," she wrote. "If people saw the way this man loves and takes care of our four daughters, they would know how ridiculous that is."
While Kyle and her "pals" are set to take their Versace-clad vitriol into the off-season, you can keep your Housewives fix when the Real Housewives of Orange County airs on Bravo Monday at 8/7c.