I'll Take Two Scoops! Kim Kardashian Busts Out Of Fancy Frock On Frozen Yogurt Run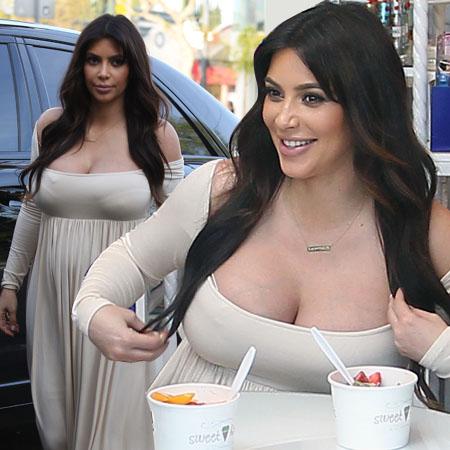 Kim Kardashian continues to glam it up during her pregnancy, wearing an elegant, off-the-shoulder crème frock as she grabbed frozen yogurt at SweetHarts in Sherman Oaks, Ca. on Wednesday, and RadarOnline.com has the pics.
The reality TV superstar was well made up with her silky black locks flowing over her exposed shoulders. A camera crew was naturally nearby, taping for one of the family's stable of reality shows.
Article continues below advertisement
"I have the rest of my life to be skinny and to lose weight and I'm not really worrying about it --if I have a craving I'll go for it."
Kim is expecting her first child with boyfriend Kanye West this summer.