Exclusive
Confrontation In Court! Kim Kardashian & Kris Humphries Come Face-To-Face For First Time In 18 Months On Friday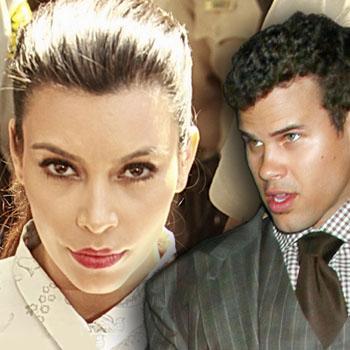 UPDATE: RadarOnline.com has confirmed that Kim and Kris have reached a settlement in their divorce and it will NOT go to trial. Under the agreement, each party will pay their own attorney fees and Kim will NOT pay any money to Kris. The deal will be announced in court at 8:30 a.m. PT Friday. Read more details here.
For the first time in 18 months, Kim Kardashian is expected to eyeball her husband of 72-days, Kris Humphries, in a Los Angeles courtroom on Friday morning, and RadarOnline.com has exclusive details.
Article continues below advertisement
Just hours before the divorce drama begins, a trial insider told RadarOnline.com that Kim, 32, "would be very smart" to ditch her high-priced lawyer, Laura Wasser, for a face-to-face conversation with the 28-year-old Brooklyn Nets star -- a last ditch move, said the source, that could end their bitter dispute.
"The two of them could just talk," a person close to the situation told RadarOnline.com.
"Kris just wants an apology because he loved Kim with all of his heart, and he felt that she just trampled all over it. Kris doesn't resent her for moving on with her life, he wants her to be happy, truly.
"But it's about respect and he needs Kim to acknowledge that she had serious doubts about the marriage, even before they walked down the aisle."
As we previously reported, if Kim apologizes to Kris at the settlement conference, he will likely drop his bid to seek an annulment and give her a divorce.
Said a source, "Put simply, if Kim were to formally apologize to Kris in court tomorrow — and if he felt it were sincere — he would likely agree to end the marriage and avoid the trial."
Article continues below advertisement
Kris also wants pregnant Kim to release a formal statement to the media, apologizing.
If both sides are unable to reach an agreement the trial will proceed on May 6.
Even if the pair can't end their feud, Kim could have a minor win: Kris is said to be nervous about the possibility of facing financial sanctions for failure to appear at another hearing last week.
"Kris known the judge could impose financial sanctions against jim for not appearing in court as required last week," said the source.
"Kris had every intention of being in court last week and will convey that to the judge. He will follow and abide with whatever he is ordered to do."