Exclusive
Rick Sanchez's Fears Were Misplaced! Jenna Wolfe Wasn't Demoted Because She's A Pregnant Lesbian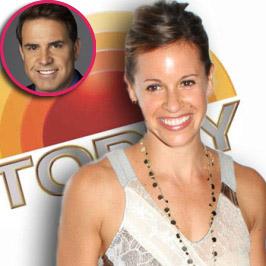 Jenna Wolfe wasn't demoted by Weekend TODAY because she's a pregnant lesbian, as fellow journalist, Rick Sanchez, feared may be the case -- in fact, she was replaced with Erica Hill simply because she had better chemistry with co-host Lester Holt, RadarOnline.com is exclusively reporting.
"Jenna was not demoted because of either her sexuality or her pregnancy -- NBC has been extremely supportive of her," a show insider tells Radar. "In fact, Jenna only recently revealed to her bosses that she was pregnant -- AFTER she had already been demoted from co-host to news reader.
Article continues below advertisement
"NBC had been courting Erica to join the show for a long time, and when she became available they signed her. It had nothing to do with anything in Jenna's personal life.
"TODAY show staffers have absolutely embraced Jenna's pregnancy, and Erica has been giving her advice because she has two young sons herself. The women got off to a rocky start, but that is all in the past now."
Wolfe, 39, made the announcement last week that she's expecting a baby with her partner, NBC foreign correspondent Stephanie Gosk.
As we previously reported, Sanchez has been hammering both NBC and the TODAY show over her demotion, generating controversy by questioning if it happened because the network is uncomfortable that Jenna's a "pregnant lesbian."
"Wonder if @JennaWolfe's terrible demotion on @todayshow was b/c @NBC didn't want a then soon 2 be pregnant lesbian to be cohost. I hope not," he tweeted.
Meanwhile, Wolfe revealed in her latest blog entry that she has been "flooded with positive feedback" since her big announcement.