Eva Longoria Reveals Starvation Diet After Tony Parker Split -- 'I Was Not Eating'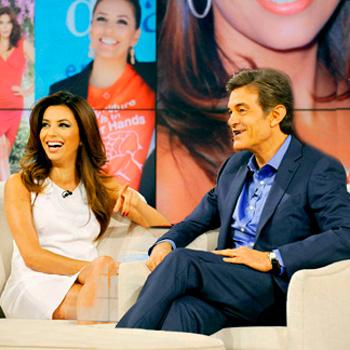 Desperate Housewives star Eva Longoria was told she never looked better after her dramatic divorce from Tony Parker, but RadarOnline.com has learned she was wasting away and starving herself out of despair!
The 38-year-old actress, who split from the French NBA star in November 2010 amidst rampant allegations that he was cheating and even sexting with the wife of a former San Antonio Spurs teammate, is finally opening up about the personal pain and physical transformation that she suffered in an interview with Dr. Mehmet Oz.
Article continues below advertisement
"I was not eating. I was depressed. I was sad. My diet was coffee," Longoria revealed in the episode of The Dr. OZ Show that airs on Friday, noting that her emaciated look got her more compliments that ever.
"So people kept saying, 'You look amazing. Divorce agrees with you.' And I was like, I don't feel good. I have no energy."
During the aftermath of the ugly breakup of their three-year marriage The Young And The Restless actress says, "I didn't know I was depressed. I mean, I knew it was a sad moment in my life, but I wouldn't categorize myself as depressed."
Longoria eventually went for emergency tests because she was so worried about the downward spiral of her health which revealed she "was just depleted of every vitamin."
"The doctor said it's as if somebody took a straw and sucked everything out of your body. You don't have any iron, your liver's overacting," she revealed.
"It was like all these things were physically wrong with my body, so I had to saturate with vitamins and kind of get back on this track."
Longoria was prescribed a healthier diet that "cut out all sugar and anything that turns into sugar" for three months, after which "I had more energy than I've ever had. My palate was different. Things tasted better."