Courtney Love Shoots Ad For Electronic Cigarettes — Check Out The Hilarious Result!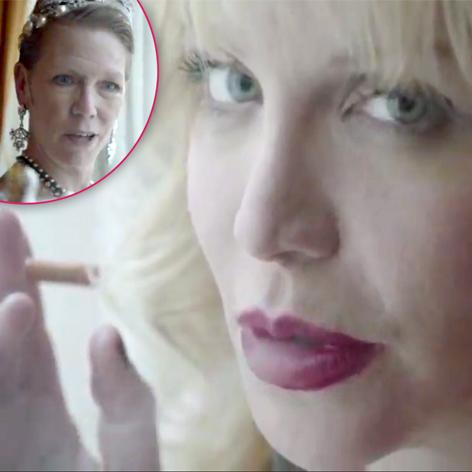 Courtney Love certainly scrubs up nicely!
The first lady of grunge sheds her usual bedraggled appearance, instead looking radiant and beautiful, in a new ad for NJOY Kings, electronic cigarettes — and RadarOnline.com has a sneak peek at the hilarious commercial.
In the ad, a stodgy older woman catches the controversial performer smoking indoors at a chic party.
"Excuse me, you know you can't smoke in here," the elderly woman tells the Hole lead singer, while looking at her in utter disgust.
Article continues below advertisement
Never one to be intimidated by anyone, Love responds with her trademark foul language.
"Relax, it's a f**kin NJOY," she says before sauntering away as her song Celebrity Skin plays in the background.
NJOY Kings promote their product as the "look, taste and feel of traditional (cancer sticks)."
Meanwhile, in addition to shilling electric ciggies, Love's spokesperson, Steve Honig, tells Radar his client is also working hard at her painting career and is gaining respect within the art world.
"Right now, Courtney is very focused on her artwork which is getting some very good notice among people in that community," Honig says.
WARNING: Video contains explicit language.
radar_embed service=youtube src="https://www.youtube.com/embed/_SFs761eEFk" width="560" height="315"